This November: Your Voice, Your Choice
By Henry Street Settlement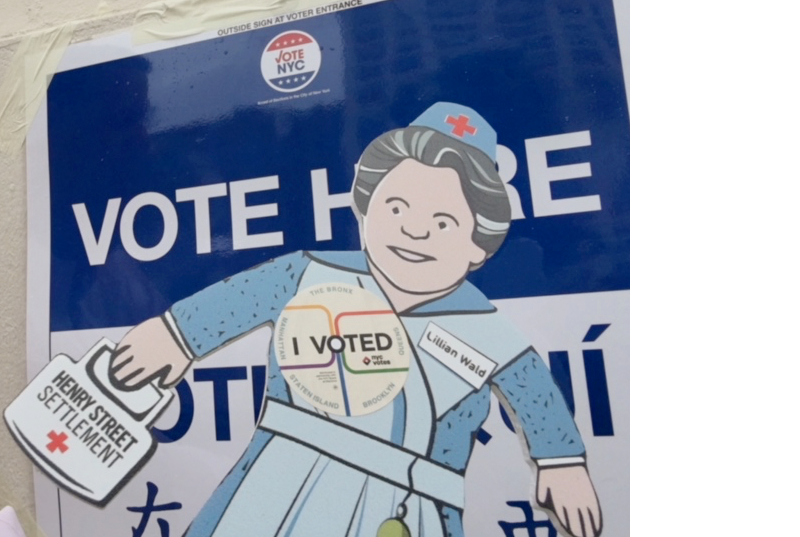 Above: Lillian Wald joined with other settlement house leaders to fight for women's voting rights so naturally #FlatLillian exercises that right today!
Election Day is Tuesday, November 6. Voice and choice are at the heart of our values at Henry Street, and the stakes have never been higher. Polls are open from 6 a.m. to 9 p.m., so we hope everyone will find the time to vote. All the better if you can go the extra mile and help a neighbor or family member make it to the polls.
Prepare before you go! On November 6, New Yorkers will have the opportunity to vote in many races, including U.S. Senate, U.S. House of Representatives, Governor, and Lieutenant Governor of New York, Attorney General of New York, and more. To find out your polling place, read the voter guide, and check your voting status, click here.   
This year, you'll have an unusual opportunity to vote on three resolutions to amend the New York City Charter. Here's a helpful website that explains all in detail, and following is a brief summary:
Question 1: Campaign Finance
This proposal would lower the donation amounts that candidates can accept from individuals in an effort to reduce the perception of corruption. For example, right now an individual can donate $5,100 to the Mayor, Public Advocate, or Comptroller races. (The amount is less for other offices.) If the new rule is passed, these candidates can accept only $2,000 if they participate in a program where they receive public matching funds. If they forego the match, they will be able to accept up to $3,500.
Question 2: Civic Engagement Commission
This proposal would establish a 15-member Civic Engagement Commission to enhance civic participation, promote civic trust, and strengthen democracy in New York City. The mayor would appoint 8 of the Commission's 15 members and other elected officials would appoint the remainder, to include those with experience with historically under-represented and underserved groups. Among the commission's responsibilities would be to implement a citywide participatory budgeting process, to support and partner with community-based organizations, and to establish a program for language interpretation at all polling sites.
Question 3: Community Boards
This proposal would establish term limits for community board members—specifically a maximum of four consecutive two-year terms. It would also require borough presidents to seek out people with diverse backgrounds for these roles and to require the Civic Engagement Commission (above, if passed) to provide the boards with a variety of resources related to land use and other issues.
So, raise your voices, make your choices, and stand up for democracy!