Treasures of New York: Settlement Houses
By Henry Street Settlement
Updated: You can now view Treasures of New York: Settlement Houses online! Click here to watch the full documentary.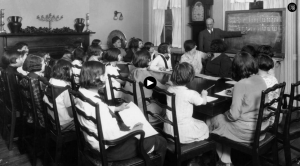 Henry Street and its Executive Director David Garza will be featured in Treasures of New York: Settlement Houses, a new documentary premiering on Thursday, November 17th at 8 p.m. on WLIW21 and on Sunday, November 20th at 7 p.m. on WNET13. 
The one-hour film explores the unique history of this dynamic social service movement, which began in the late 19th.   The settlement house movement created havens where residents of the City's impoverished neighborhoods could seek assistance, education or a simple respite. 
Treasures of New York: Settlement Houses explores the movement's evolution and the social ramifications of settlement houses in New York.  Through both archival and modern day interviews and images, viewers will learn how institutions that began as a resource to help immigrants and poverty-stricken city dwellers now provide services and activities designed to identify and reinforce the strengths of individuals, families and communities. 
Today, more than three dozen organizations, following the settlement house model, offer a wide array of services and activities to New York City's ever-changing population in communities throughout the five boroughs. Nestled in neighborhoods, these safe zones for children and adults of all ages provide opportunities for teaching, learning and connecting with our neighbors, which play an integral role in New York City's social fabric.
For more information about the series and this program, visit the Treasures of New York website at wliw.org/treasures.