Urban Family Center Celebrates 50 Years
By Henry Street Settlement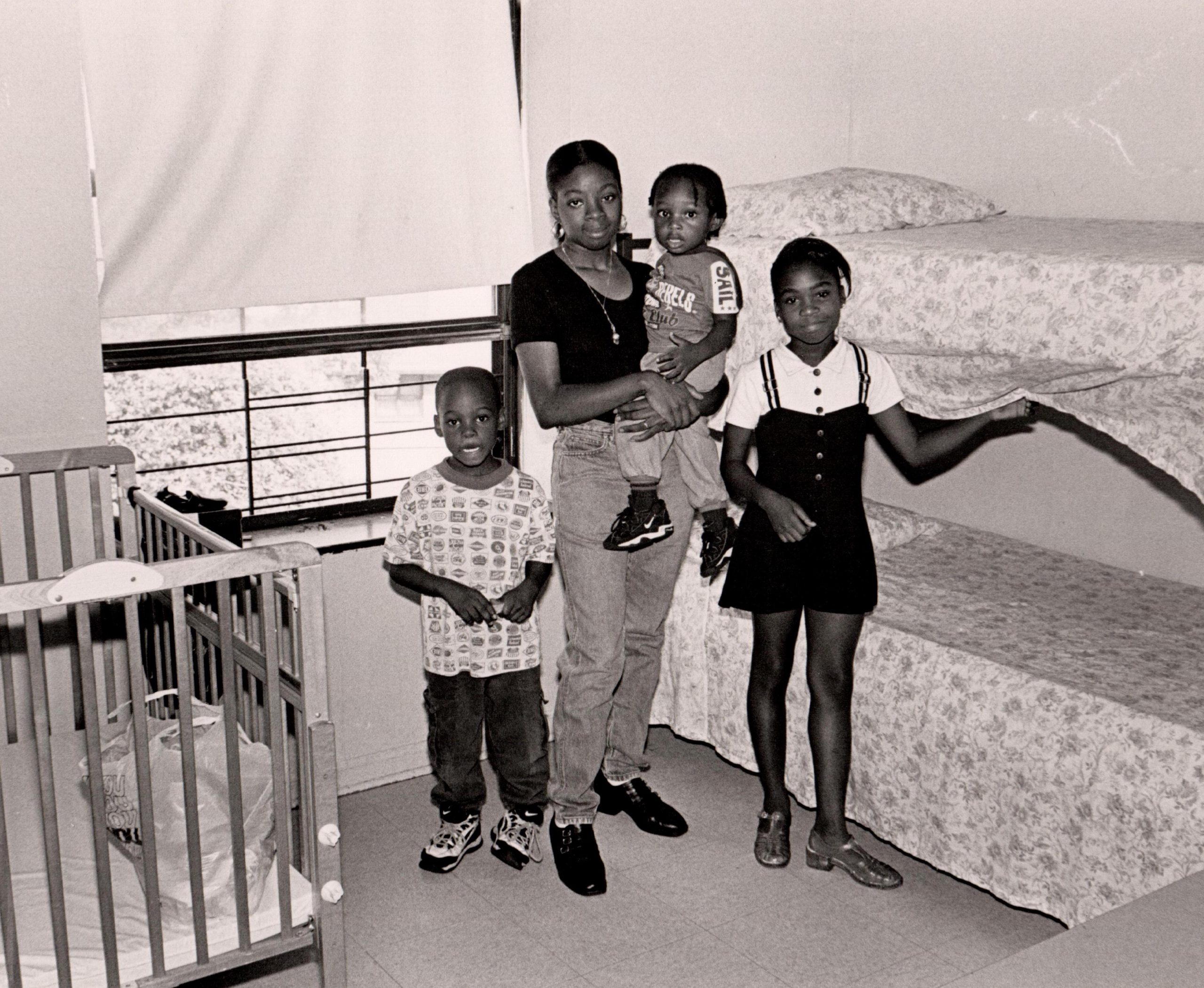 A family of four in their Urban Family Center apartment in 1996. Photo: Ken Wittenberg.
On Monday, October 3, 2022, Henry Street Settlement came together to celebrate 50 years of service at the Urban Family Center—the nation's first apartment-style transitional shelter with onsite social services for families. 
HISTORY
In 1972 when UFC was founded, more than 8,000 families were homeless in New York City—a number that had quadrupled in just a few years. At the time, the city's response to this housing crisis was to put up families in "welfare hotels," notoriously cramped, dirty, and unsafe quarters that did little to help children thrive. Danny Kronenfeld, then an instructor at Columbia's School of Social Work, was recruited by Henry Street to implement a new shelter model—one that promoted families' dignity and independence. The Urban Family Center would consist of individual apartments where families could get back on their feet. Henry Street's director, Bertram Beck, hired Kronenfeld as a live-in social worker at the center, where he stayed for 13 years, raising his own children at the site.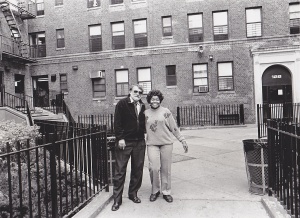 Danny Kronenfeld and Verona Middleton-Jeter in front of the Urban Family Center.
Since then, UFC has continued to innovate, creating a resident-led self-help group for women who had survived domestic violence, developing onsite employment opportunities and a training program for other shelter workers, and hiring employment counselors. Its onsite, live-in workers conduct intakes 24 hours a day, ensuring that families suddenly displaced do not have to wait in dingy, bureaucratic holding areas. The team ensures that residents receive the respect, dignity, and support they deserve to move toward self-sufficiency.  
Today, 78 families, living in their own apartments, receive extensive social support to help them find permanent housing as well as access to Henry Street's services from employment to mental health care to summer camp. UFC has helped more than 5,000 families find permanent homes. 
THEN & NOW 
The 50th anniversary celebration brought together former and current UFC team members with other Henry Street employees and guests at the Abrons Arts Center. A history timeline highlighted major moments at UFC and in the greater Transitional & Support Housing division, such as the visit to the shelter in 1989 by Princess Diana.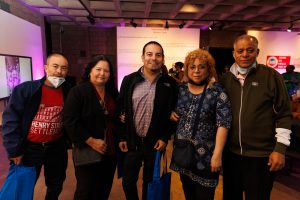 Speakers with deep connections to UFC included past directors Verona Middleton-Jeter and Geniria Armstrong, who spoke to the "learning by doing" of the early years, having no articles or books to draw from.
Current director Raihana Bosse introduced UFC resident Myeshia, who shared–to a cheering audience–that her new apartment had just passed inspection, and she and her children would be moving soon. Myeshia has been living in shelters with her children since 2019, saying the last six months at UFC were, "the best experience I've ever had."
Other speakers included Jenny and Leah Kronenfeld, daughters of the late Danny Kronenfeld; Quanda Delande, director of the Third Street Women's Residence; and Theresa Young, director of Helen's House family shelter.
A "BITTERSWEET" CELEBRATION
The celebration was tempered by a recognition that the need for transitional housing, like UFC, continues to grow. "Our golden anniversary celebration is bittersweet," said Middleton-Jeter. "The social issue of families without homes continues to increase, with no local, state, or federal housing plan in place. Yes, we have a Band-Aid called transitional housing. But the other end of this continuum is not where it should be. We need low-income housing for people in our community."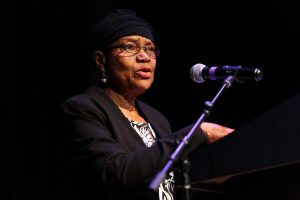 Middleton-Jeter emphasized that people without a home are no different from "the rest of us." It's a circumstance, not a deficiency, she said, and should not lead to someone being treated "less than." And that is where the sweet part of UFC's model of dignity and respect resonates: "We have much to be proud of. The positive impact on the lives of thousands of families. The worldwide replication of our model. And the significant contribution we've made to the social work profession." 
The evening concluded with a fitting performance by the Henry Street Choir of Ingrid Michaelson's "Everybody." Choir members ended the song taking turns repeating the phrase, "Just let the love, love, love, begin."
To read the special edition newsletter on Urban Family Center's 50th anniversary, click here.
To see images from the anniversary celebration, click here.