Youth Are the Designers in this Course in Inspiration
By Henry Street Settlement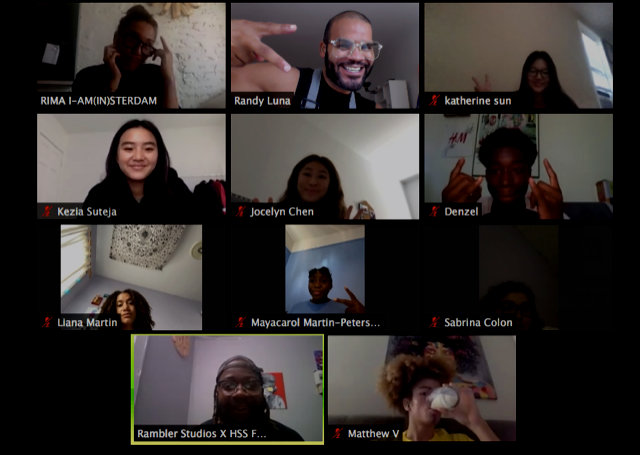 In August 2020, Rambler Studios, a youth fashion-design program based in Amsterdam and Berlin, rambled into the Lower East Side—albeit in virtual form. Ten New Yorkers, ages 16 to 24, were selected to participate in this five-week course intended to empower them to "design their lives through fashion."
In Rambler Studios' European bases, the organization collaborates with social-service partners to unleash the talent and creativity of low-income and at-risk youth through fashion design. Students learn about working in a professional studio while gaining the self-esteem that comes from seeing their designs turned into clothing styles, some of which are sold in stores in the two cities and online (and from which they make a small design fee). Henry Street's VP of Public Policy and External Relations Jeremy Reiss learned about the program in 2013, hosted members of the organization in New York the next year, and visited the program's Berlin site.
"I loved it because I knew that there are so many young people involved in Henry Street who are interested in fashion and creative design, but these programs are not offered in our youth employment programs at this level," Reiss says.
Most of the interns have some experience either designing or styling clothing, learning about fashion through thrift shopping and recycling, "or they just love fashion," says NYC Rambler Creative Coach Randy Luna, a designer and choreographer who runs educational programming for Abrons Arts Center. One intern became interested in building clothes for herself and others because she didn't fit into the mainstream norm of "model size."
The students working with Luna, social worker Xavier Bedward, and the Rambler team in Amsterdam, began in July by studying designers' collections and collecting pictures that inspired them—from architecture to films to revolution. After storyboarding their ideas, they each met with program leaders to begin a personal fashion project—ranging from styling a photo shoot to deconstructing and redesigning clothes. Students have also learned about logo design from a professional and are creating their own logos.
Carmen van der Vecht, who is spearheading the NYC Rambler training program, founded Rambler Studios in 2007 after observing the striking designs worn by youth living on the streets in London, Amsterdam, and Sao Paulo. She met with Reiss multiple times over the past seven years to create the first New York City program. The plan was for it to be offered through the Summer Youth Employment Program that Henry Street operates with city funding, but the pandemic derailed those plans. Now, with funding from the Creative Industries Fund NL and Robin Hood Foundation, Henry Street has resurrected the program in digital learning form.
"Fashion is a kind of outlet; it's a form of self-expression. Whatever situation you're in, you can express yourself through the way you dress. It's a language. It gives you such a power," van der Vecht says. "That's the core of the project."
Because this summer's program moved online, students in the New York and Amsterdam programs have been able to get to know one another on Zoom.
"I'm thrilled that the program is happening," van der Vecht says. "We didn't expect this COVID-19 situation, but suddenly we have a unique, new opportunity."