Celebrations With Centennial Marketers
By Chelsea Jupin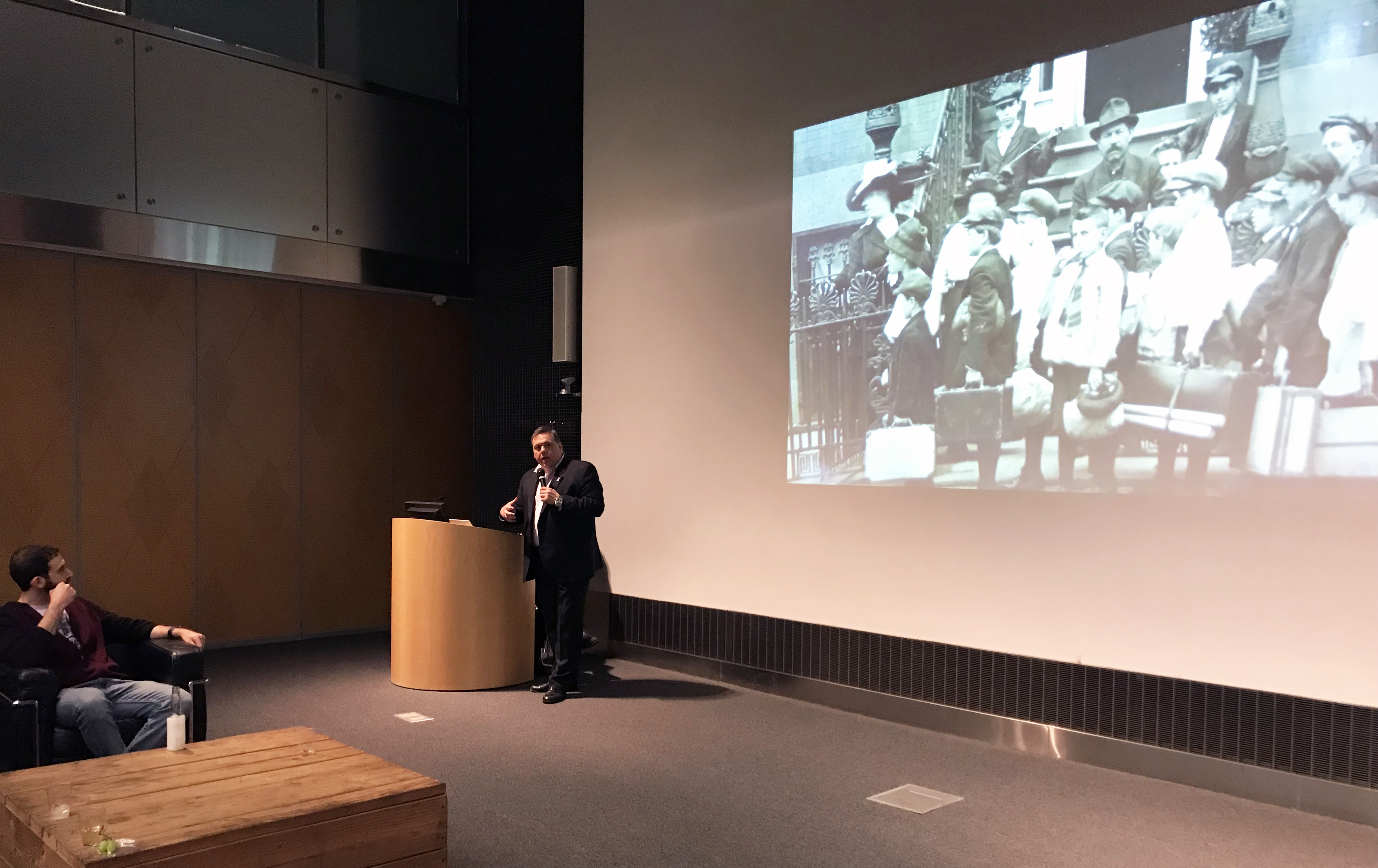 Above: David Garza at Grey Advertising, with a look at Henry Street Settlement's past. Fellow centennial marketer (and neighbor!) Jake Dell of Katz's Deli is pictured sitting.
Henry Street launched its 125th birthday celebration with some other venerable "old-timers." Centennial marketers—those working for organizations who have recently celebrated 100, 125 or 150th anniversaries—joined together for cocktails and a spirited discussion about the joys and challenges of marketing a landmark birthday. The event was hosted by Empire Entertainment at the New York headquarters for Grey Advertising, which recently celebrated its centennial. Empire will be helping plan the Settlement's 125th anniversary celebration, and had done the same for Grey Advertising's recent celebration.  
Henry Street Settlement Executive Director David Garza spoke about Henry Street Settlement's first 125 years. He thanked Grey and Empire for the event on behalf of the Henry Street team, and thanked the other centennial marketers in attendance for sharing their wisdom. 
Grey Advertising shared their experiences, along with their celebratory video made to commemorate their centennial. Additional attendees from Katz's Deli, Brown Brothers Harriman, Fitch Ratings and New York Historical Society were also on hand to represent other institutions who have stood the test of time. They met with Henry Street team members and discussed their own recent celebrations. 
Henry Street Settlement is celebrating its Quasquicentennial — 125 years of continuous service to our community — throughout 2018. The entire year will be punctuated with numerous celebrations — from the grand to the intimate to the virtual. Click here to learn more or here to find out how you can help.