Hidden Histories Made Public
By Chelsea Jupin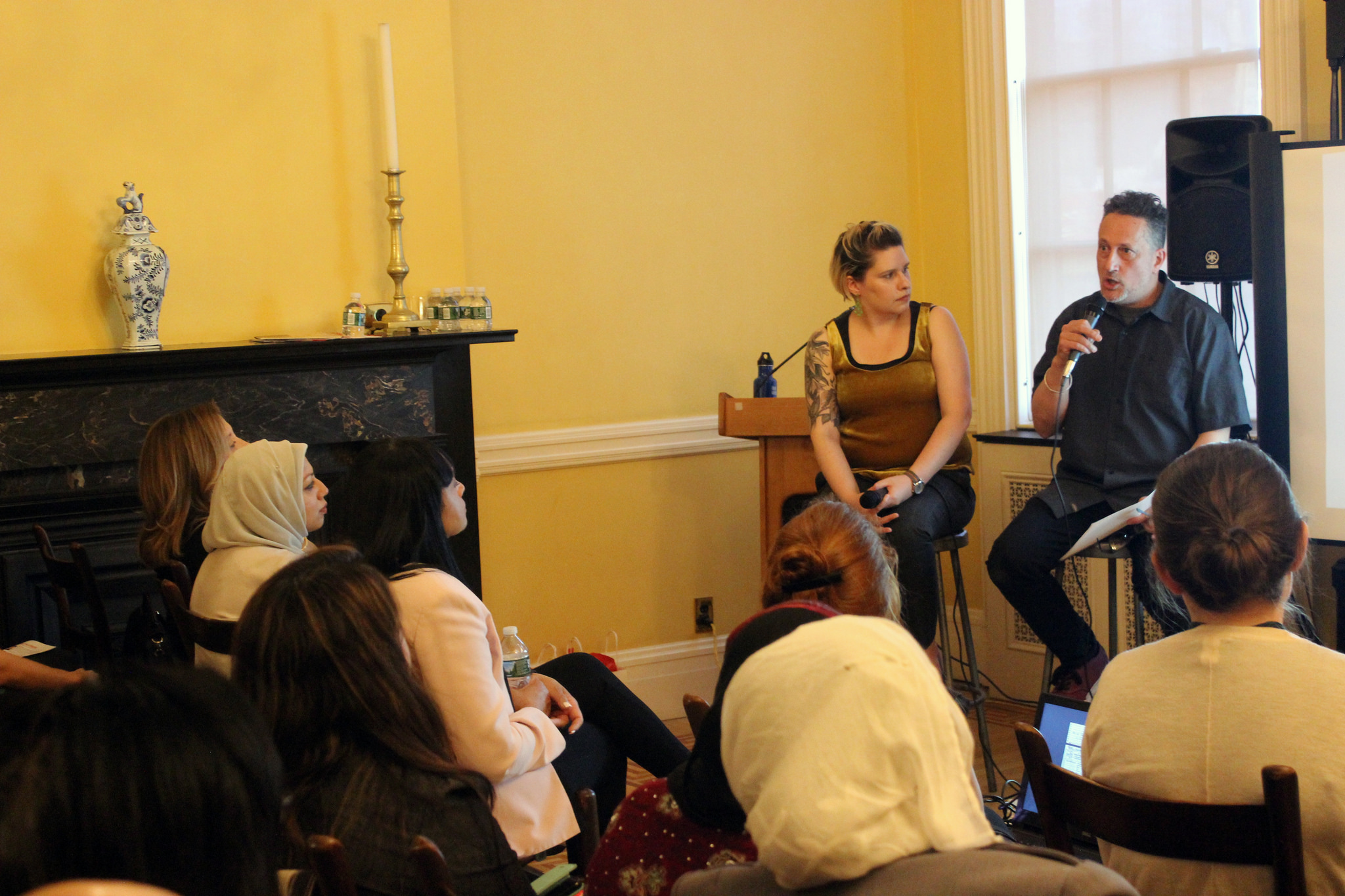 (Above: Sarah Lohman and Vivek Bald address the crowded audience at Hidden Immigration Histories of the Lower East Side, April 26, 2018.)
The history of the Lower East Side's South Asians may be "hidden" – but it is VERY popular! Nearly 90 individuals squeezed into the Settlement's dining room for the public history program "Hidden Immigration Histories of the Lower East Side: Stories & Food Traditions of Local South Asian Communities" held on April 26, 2018.
It was an evening for discussing, discovering and dining. History and food lovers gathered for a lively conversation and complimentary food tasting to celebrate the history of South Asian immigrants on the Lower East Side and their influence on both the neighborhood and city.
Henry Street Settlement's Public Historian Katie Vogel kicked off the event. "Through our public programming surrounding the Settlement's 125th anniversary, we hope to add nuance to the history of immigration to the Lower East Side," she said. "It is a fraught history and, as it continues to be fraught topic today, it is all the more important to talk about histories of immigration, especially of communities of color and those who are not usually represented in the archives or the history books."
The discussion was led by Sarah Lohman, curator of Food Programming at the Lower East Side Tenement Museum, and Vivek Bald, author and scholar. Both Lohman and Bald shared their studies on the rich and often unknown history of immigrants from South Asian countries including Bangladesh, Pakistan and India. These communities were impacted by strict U.S. immigration laws throughout the 20th century but became and remained a vibrant part of the Lower East Side. The communities historically came together around food, and South Asian restaurants throughout the city—including several on the Lower East Side—served as community organizing spaces.
Lohman and Bald welcomed special guests Yolanda Musawwir, Amina Ali Cymbala and Dinu Ahmed. The three women shared their family histories (and discovered ways in which they overlapped, as they spotted their own family members in each other's family photos!)  as immigrants on the Lower East Side.
Above: special guests (left to right) Yolanda Musawwir, Dinu Ahmed and Amina Ali Cymbala.)
The event concluded with biryani and samosas from local restaurant Haveli Banjara, and chai masala made by Sarah Lohman from a traditional recipe. The audience spilled out into the Settlement's garden—the site of one of the nation's first playgrounds—to enjoy food, company and the warm spring evening.
Hidden Immigrant Histories of the Lower East Side is a free public program to celebrate the Settlement's 125th birthday in 2018. It is funded, in part, by a major grant from the National Endowment for the Humanities.  The series of events will continue with Hidden Histories of the Lower East Side: Sephardic Jewish Food Traditions on June 4, 2018. The series kicked off with the third annual Lillian Wald Symposium.