Omayra Torres: From the Senior Center to Zoom
By Henry Street Settlement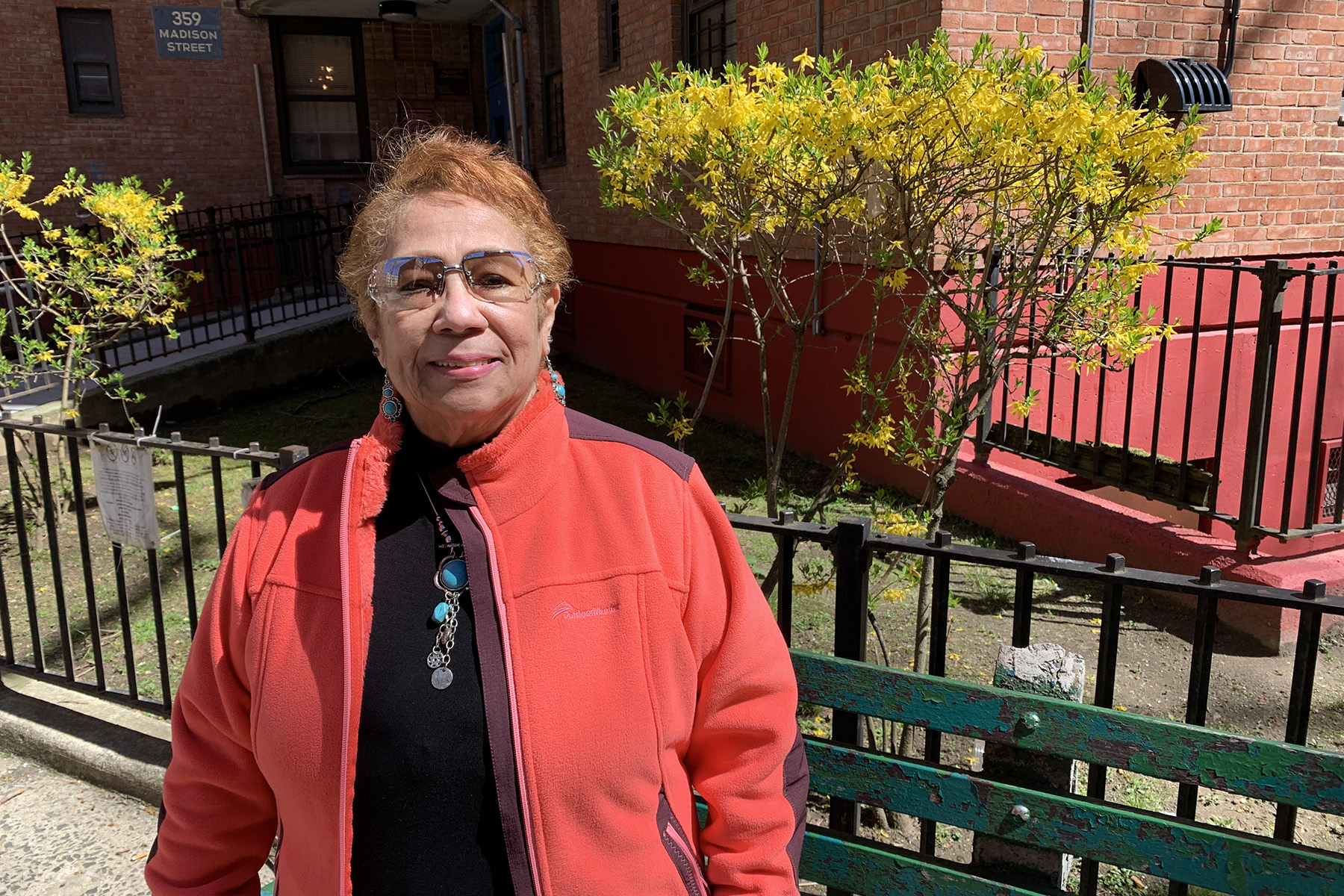 A sense of joy radiated through the courtyard of the Vladeck Houses, under the spring sunshine, as Omayra Torres met up with her Senior Center friends on April 13 for the first time since the start of the pandemic.
Masked and sharing elbow bumps with the (fully vaccinated) group, Omayra cheered, "I was waiting for this moment, and I give thanks to Henry Street; I feel so good to see my people!" Although the Senior Center is still closed, Omayra and friends borrowed a Henry Street classroom to stage their karaoke reunion.
Omayra joined the Senior Center in 2014 and immediately dove in to its daily programming. Her favorite activity is karaoke, and at her prompting, it was added to the class roster.
"I introduced myself to the [former] director and offered to lead the activity—and we started right away!" Omayra says. Before the pandemic, she led two-hour karaoke sessions twice a week, and it proved to be a hit—soon including dozens of participants, who would dance along. "They sing!" she says of her fellow attendees. Omayra wasn't sure whether the participants—many of whom had never done karaoke—would be up for singing in public, but they surprised her with their enthusiasm.
At the start of the pandemic, Senior Center members, including Omayra, moved online—tuning in remotely to their favorite classes like yoga, dance, and bingo. Seniors still take field trips, too, with virtual tours including the Tenement Museum and the Museum of Natural History.
The Senior Services team has worked hard to reach out to all of their program participants and help with technical difficulties that could keep seniors from participating fully. They report that many of their members have learned how to use the internet much more effectively—a skill that has kept them stay connected to the outside world over the past year. Now, attendees receive a monthly calendar with registration links, or find it on the Senior Center's website and Facebook.
Omayra's virtual favorites have been seasonal celebrations and arts and crafts workshops. She even won a trophy for her witch costume in a Halloween contest and made Christmas ornaments and decorations in a Zoom workshop. The center has also moved its monthly birthday parties online so that members can still celebrate with one another. "I still love it all!" Omayra says.
She is grateful for the continued programming and for the connection it brings. "It's good for me emotionally," she says. The constant threat of loneliness and isolation is one that the entire Senior Services program team has worked hard to fight, as volunteers and team members make regular phone calls to check in and chat.
Though she loves the virtual programming, Omayra is excited to return to the Senior Center when she is able to do so safely. "I miss everybody, and I miss karaoke." Omayra has made this writer promise that she will join her and sing karaoke when the center reopens!