Seniors Stamp Out Stigma Against Mental Health: Music for the Mind
By Valerie Dowret
Voices of Experience, a Henry Street Settlement senior singing group, at Music for the Mind on June 4, 2019.
Seniors rose from their seats and danced as Emily Wang and the Voices of Experience, a Henry Street Settlement senior singing group, belted out "La Bamba" while shaking their maracas to the rhythm at the first Music for the Mind: A Free Mental Health Awareness Concert at the Abrons Arts Center Amphitheater on Tuesday, June 4.
The Henry Street Settlement Senior Services division organizes annual mental health awareness events to encourage seniors struggling with depression, isolation, loneliness, anxiety, or early signs of dementia to get help and to destigmatize mental illness. The National Association of Chronic Disease Directors reports the likelihood that 20 percent of people 55 and older face mental health issues.
The concert featured opera singer Nicola Mills as well as songs from the Sing for Your Seniors Vocalists. Between music sets, emcee Darrell Martin—from a balcony overlooking the amphitheater—shared facts about mental health; Henry Street team member Shannon Scott led a yoga stretch and mindfulness meditation exercise; and attendees filled out depression-screening cards. Henry Street's Center for Active and Successful Aging (CASA), a program within the Naturally Occurring Retirement Community (NORC) in Vladeck Houses, tabled at the event, advertising its mental health counseling sessions offered in Spanish and English. Executive Director David Garza spoke about music's significance to health.
"Music helps your frame of mind, it helps lower your blood pressure," Garza said.
As in past years, this event strived toward the goal of breaking down barriers preventing seniors from getting mental health assistance and opening up conversations about it. But Music for the Mind was different because of its musical theme.
"We wanted to reach a broader audience and we thought music would bridge the awareness and the understanding of mental health issues," Chief Administrator of Senior Services Janet Fischer said.
"Music had been proven to heal depression and pain," Fischer added.
Getting their clients to come to the Senior Center for mental health screenings can be a challenge for Senior Services. The division's own research has demonstrated that mental health issues are pervasive in the community.
Senior Services hosted a mental health fair in October 2017 in which participants were invited to take a small mental health screening in exchange for a raffle ticket. According to Fischer, staff found that a large number of seniors who entered the raffle would benefit from mental health services. However, when Senior Services invited these clients in for screenings, only a small percentage came.
Fischer understands that stigma against people who suffer from mental illness holds her clients back from seeking help.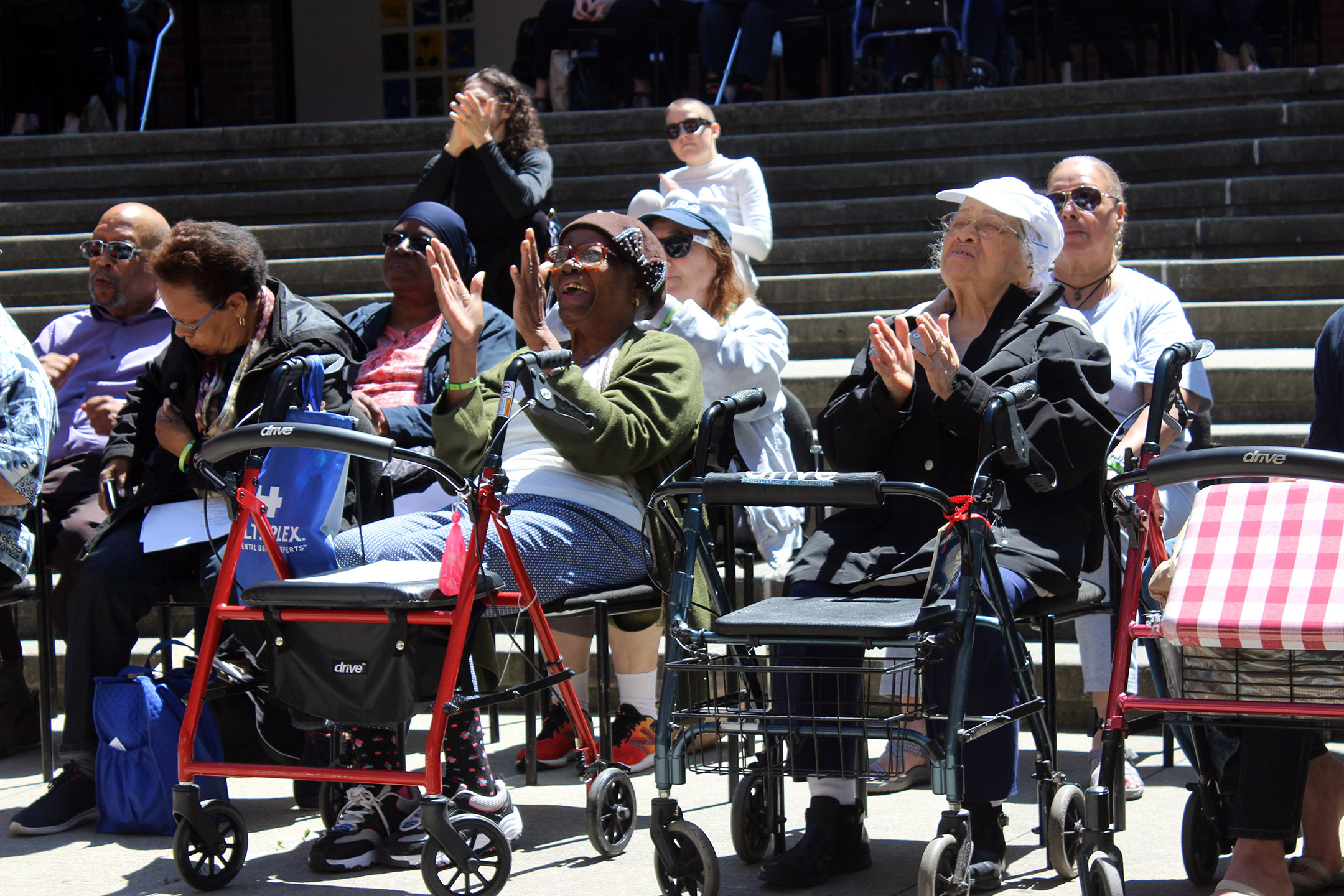 Attendees dancing along to Music for the Mind in the amphitheater at Abrons Arts Center. 
"Mental health screenings are as natural as getting a blood pressure screening, and that's what we hope to achieve—that people will see that this is nothing to be afraid of," Program Director Betsey Smith of NORC and Vladeck Cares said, "Getting help with your isolation and depression is as easy as getting help and controlling your diabetes."
Throughout the event, messages of positive mental health filled the amphitheater. Performers sang upbeat songs such as, "Feeling Good" by Nina Simone and "What a Wonderful World."
"The music was wonderful. The opera singer, she was amazing, yoga class was very interesting, and at the end, I felt very relaxed," Dolores Charlotten, a resident of Vladeck houses and a recent member of the Senior Center said.
"I did have a wonderful time," Charlotten added.
Senior Services offers regular health and wellness activities, social services, recreation and education at its 334 Madison Street location. The division also operates the Senior Companion Program in which healthy older adults are paired with isolated, frail, or homebound fellow seniors. The pair visit each other, shop, or go to doctor's appointments to decrease feelings of isolation. Henry Street's Senior Center provides an extensive array of activities including dance, exercise classes, karaoke, sing-alongs, field trips, case management, health screenings, bingo, and presentations about aging, finances, nutrition, and depression.
Woon Louie, a 70-year-old resident of Harlem, enjoys the singing, dance, and Tai Chi classes.
"If I can move, I can come every time," Louie said.
---
More information about Henry Street's Senior Services programming is available here»
For more information on the Senior Center, call 312.349.2770.
For more information about the Senior Companion program, call 212-473-1474.