Applauding Our Scholars
By Nicole Fogarty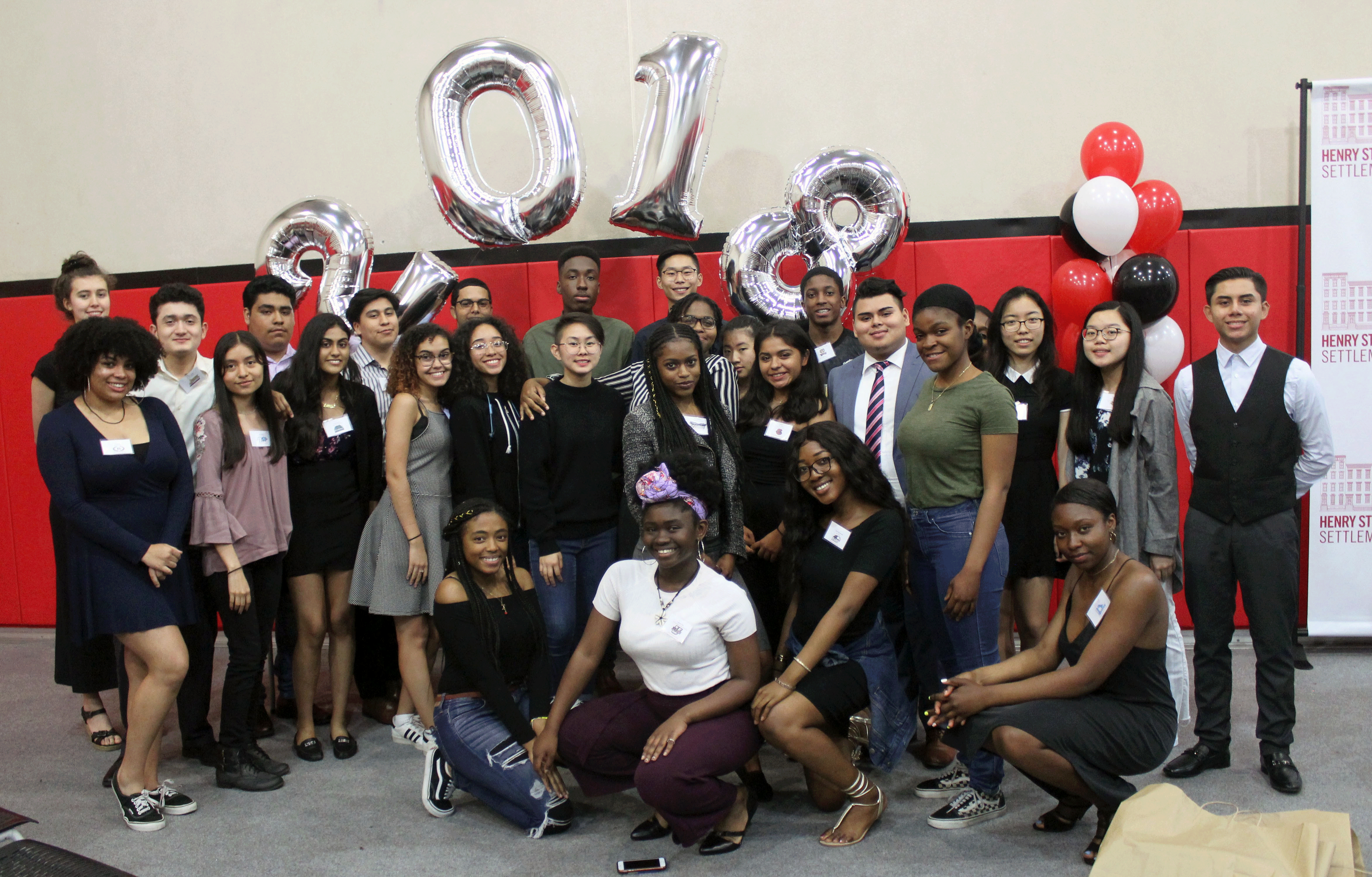 The Expanded Horizons Class of 2018 at the 16th Annual Scholarship Ceremony on May 31, 2018
Applause bounced off the walls of the gym at 301 Henry Street throughout the 16th Annual Expanded Horizons Scholarship Ceremony, held on Thursday, May 31. Proud family, friends and Henry Street team members cheered as over 100 scholarships from the Abrons/Aranow Scholarship Fund, the Bernard Tannenbaum Memorial Scholarship Fund, the Sobie Family Scholarship Fund, and the Bloom-Margolies Scholarship Fund were awarded to rising and current college students.
The Expanded Horizons Class of 2018 will be traveling around the world for college, with scholars attending schools as diverse as the University of Surrey in the United Kingdom, Bard College, George Washington University, Spelman College, Temple University, Barnard College, Cornell University, and many others. A full list of college decisions and scholarship recipients can be found here.
Henry Street Settlement Executive Director David Garza kicked off the celebration with remarks that wove together the Settlement's past, present and future.
The past, he explained, refers to the Settlement's rich 125-year history, particularly evident in the story of Louis and Anne Abrons, lifelong Henry Street supporters and the namesakes of the Abrons/Aranow Scholarship Fund. The present referred to the Bloom-Margolies Scholarship Fund, created in May of 2018 (read more about its remarkable story here). The future is our scholars. "Our mission is to open doors of opportunity, so tonight we're here to kick open some doors, and make sure we continue to be here for you so you can do good things on the other side of that door," said Garza.
The Expanded Horizons College Success Program helps students get into – and graduate – college. Participants from each level of the programs eight-year model (from 9th grade through college completion) spoke at the ceremony.
Ninth grader Safeerah Moteen said the program has helped overcome shyness, and taught her to express herself through poetry workshops with Abrons Arts Center teaching artist Modesto Flako Jimenez. "I'm looking forward to meeting people who were in my spot next year, and showing them how important this program is," she said.
"Henry Street Settlement is an important hub for thousands on the Lower East Side," said tenth grader Makai Bryan. "I stand before you as one of those whose life has been impacted by Henry Street, "he said, noting that as a member of Henry Street's Youth Leadership Council (YLC), he traveled to Albany to lobby for Summer Youth Employment Program (SYEP) funding.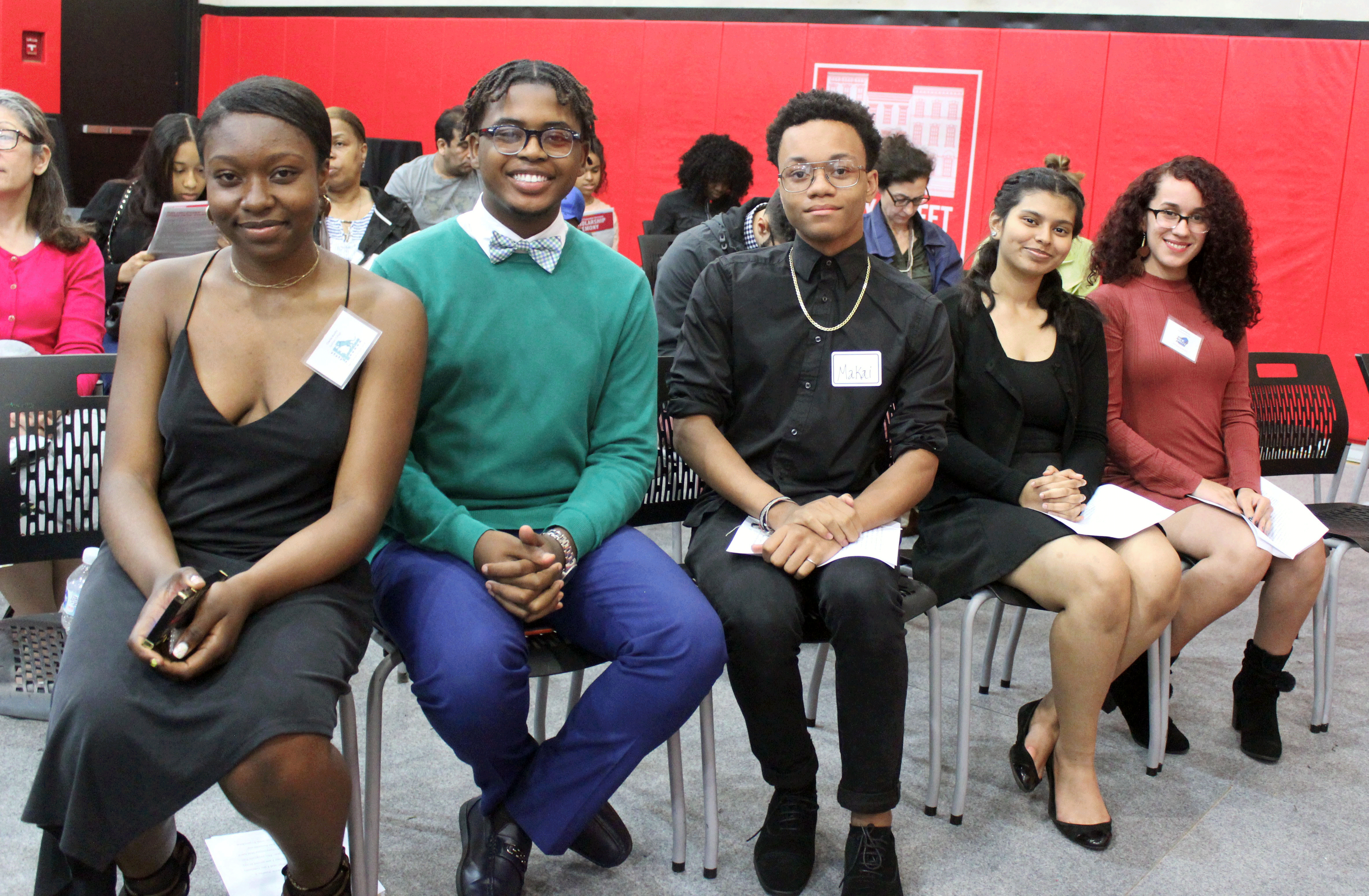 The student and alumni speakers, from left to right: Chantia Murphy, Dashawn Austin, Makai Bryan, Safeerah Moteen and Angelique Barreto
Eleventh grader Dashawn Austin, said, "Henry Street Settlement has sent me on a journey towards success and happiness. The program has provided me with experiences that shaped who I am." Among those experiences, he counts a college trip to Atlanta, lobbying for SYEP funding with the YLC, and working with the artist KAWS as a part of Henry Street's CINEMAtheque Party.
Chantia Murphy, Spelman College Class of 2022, was the evening's Senior Student Speaker. She congratulated her peers on their achievements and shared some of the valuable lessons she's learned at Henry Street. "Being at Expanded Horizons taught me that closed mouths don't get fed. If I want something, I know to advocate for myself. Whenever you find yourself worrying, take control and remind yourself that victory is ahead."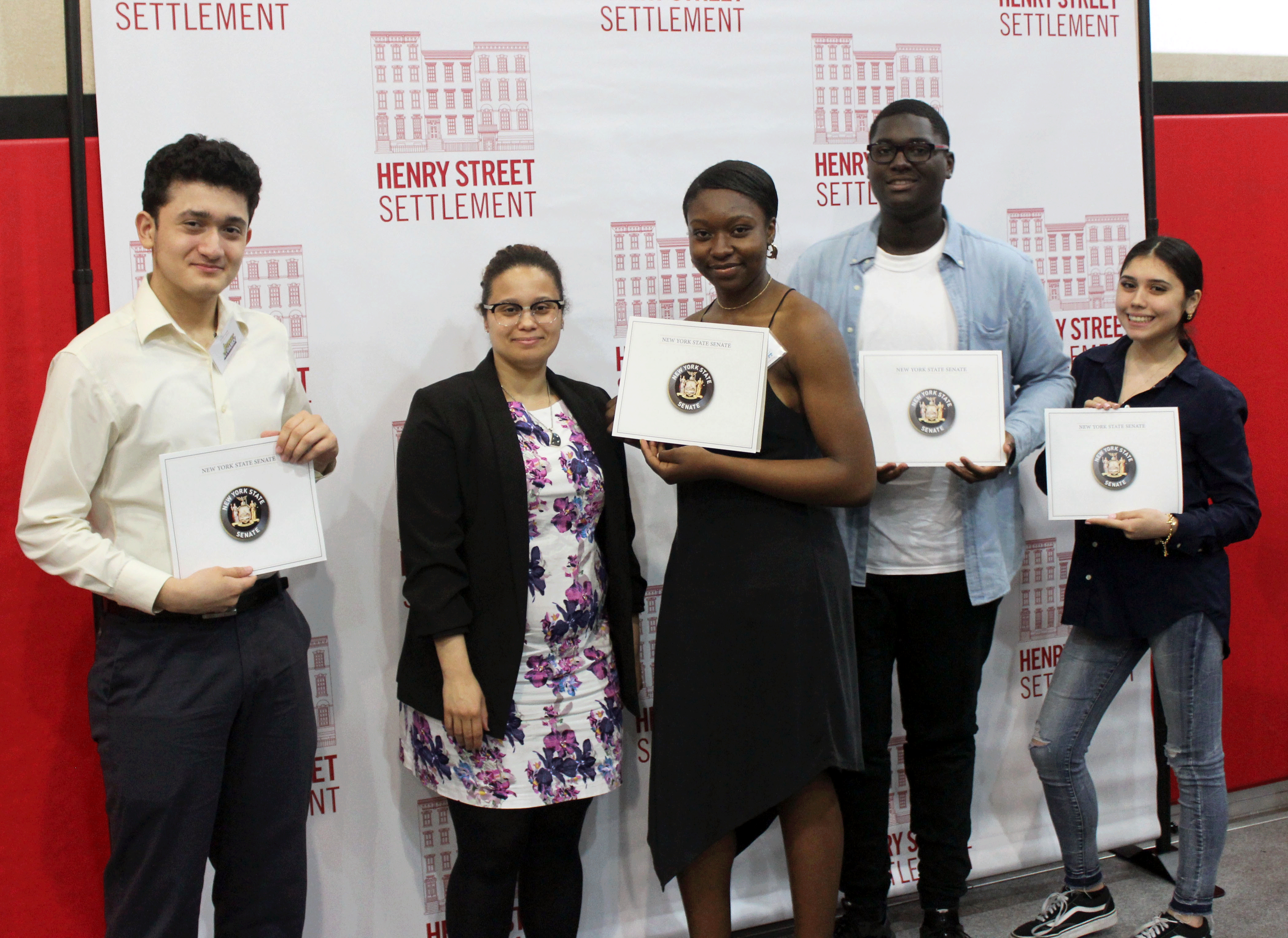 Students with a representative from New York State Senator Brian Kavanagh's office. Senator Kavanagh gave each graduating senior special citations in honor of the ceremony.
Expanded Horizons' eight-year model means the program doesn't stop when a student graduates high school. Angelique Barreto, who graduated this year from SUNY New Paltz and credits the program with being with her every step of the way, gave advice to the students. "Everyone at Henry Street sincerely cares about your success," she said. "Remember to reach out to them and utilize your resources." She also shared that her Expanded Horizons experience inspired her career path—she'll start work as a College Access Counselor at a local charter school in the fall.