Seniors Vocalize Concerns at Specialized Town Hall
By Nicole Fogarty
Two community seniors at Henry Street's Senior Issues Town Hall Meeting on November 22, 2019.
Solving NYCHA issues, increasing arts programs for seniors, holding elected officials accountable—these are just some of the community concerns brought to light at Henry Street's Senior Issues Town Hall Meeting, held on Friday, November 22, 2019 at the Dale Jones Burch Neighborhood Center.
In his opening remarks, Settlement President & CEO David Garza praised seniors for their advocacy efforts and emphasized the role that active listening plays in Henry Street's work.
"You have the experience, wisdom, commitment, and capacity to organize and take action when something needs to change," he told the nearly 75 local seniors gathered. "At Henry Street, we admire that, and it inspires us to listen, reflect, and act."
Garza also noted that this event was a ribbon-cutting in its own right—it was the first programming event held in the new neighborhood center; construction on the space was completed earlier this fall.
In the center's Community Room, participants enjoyed breakfast before getting down to business. Breakout groups tackled a host of issues at the forefront of life as an older adult on the Lower East Side. Conversations in English, Spanish, and Chinese—facilitated by the Henry Street Senior Services team—bounced off the walls of the brand-new space. After an hour of constructive conversation, members of each group presented their findings to the room.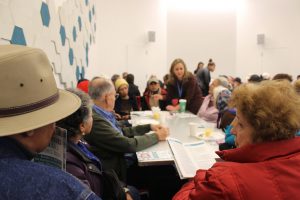 Above left: the scene at the Senior Issues Town Hall Meeting. Above right: the resource fair.
Click here for more photos.
Almost every group cited poor conditions in NYCHA apartments as a significant area for improvement, and many expressed concerns over the influx of new development on the Lower East Side and the neighborhood changes that are coming with it. One group member also noted that, in recent years, the neighborhood has lost two nursing homes, exclaiming, "people don't want to be shipped off to Long Island or upstate—we want to stay here, in our community!"
In addition to the NYCHA issues, the main takeaways that will inform Henry Street moving forward include increasing access to arts programming for seniors through the Settlement's Abrons Arts Center, continuing to foster the relationship between Betances Health Center and the community, and increasing the involvement of local elected officials in events such as this. 
"Seniors are often marginalized—we want to help empower them to be included and engaged in their community," said Janet Fischer, Henry Street's vice president for Senior Services. "The town hall is a win-win: it helps their collective voice be heard, and it helps us with ideas and insights to ensure our programming is the best it can be."
Fischer was particularly energized by the feedback surrounding health care in the community, and looks forward to applying it to the Settlement's Health in Action program, a partnership with Betances that brings nursing services to area seniors.
Lunch at the Settlement's Senior Center immediately followed the discussion, complete with a resource fair featuring the event's partner organizations. A full list and contact information can be found here.