PATHS Infuses Abrons Arts Programming Through All Henry Street Programs
By Henry Street Settlement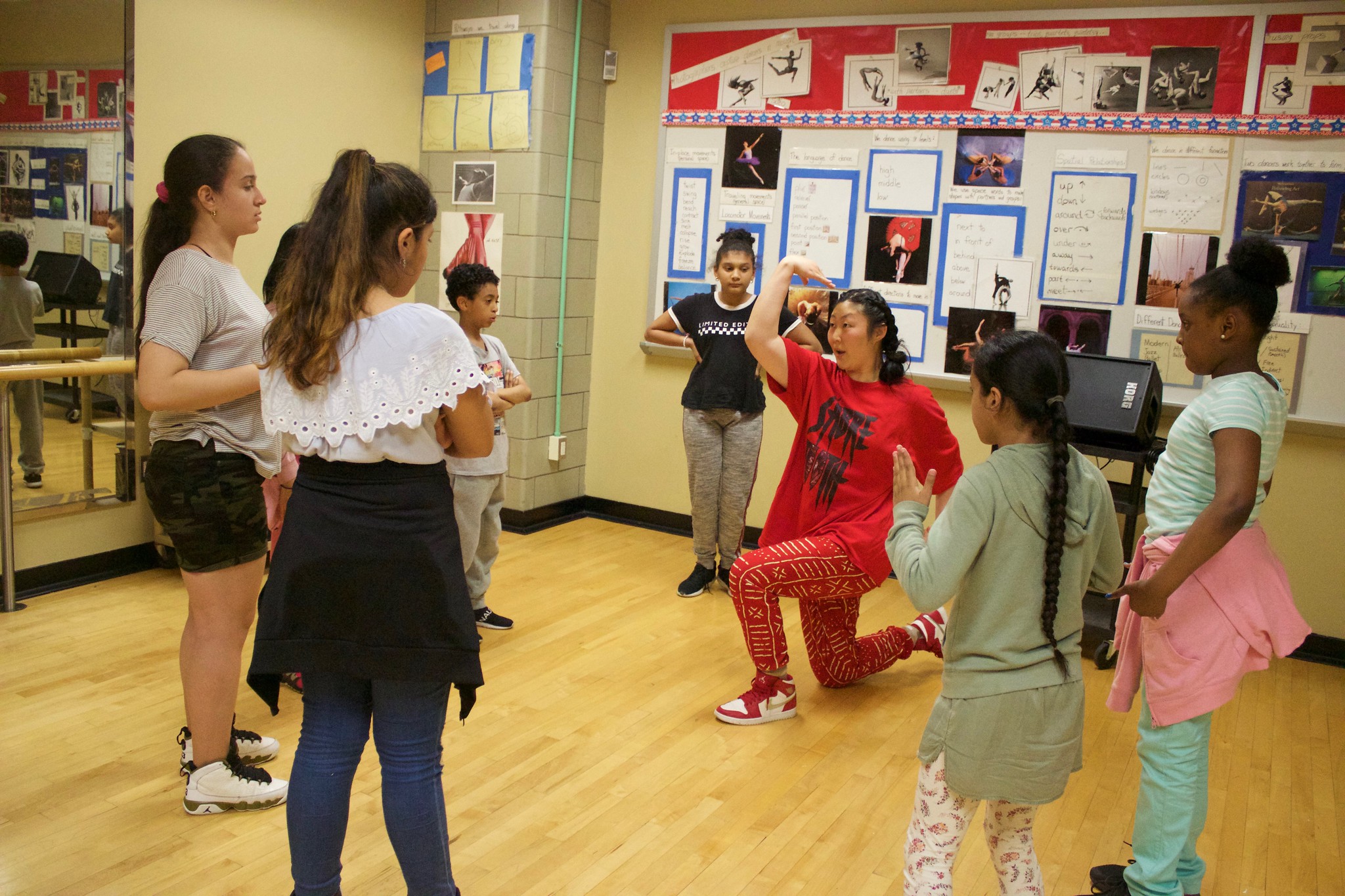 Above: dance teacher Sun Woo Park shows students how to move like a robot. Park's class is organized through the Promoting the Arts Throughout Henry Street (PATHS) program that integrates the arts into every aspect of the Settlement's vast network of social service programs in transitional and supportive housing, education and employment, and mental health and senior services. 
"Nooooo!"
That was the reaction of an entire fourth grade dance class at P.S. 134 when their teacher, Sun Woo Park, announced that it was the second-to-last "popping" class of the year.
The eight students, sitting in a circle in a mirror-walled dance studio, quickly recovered from their dejection as Park, part teacher, part healer, began the class by asking everyone how they were feeling in the moment. "What's going well, what could be better, and what are your energy levels?" she asked.
After a discussion ranging from school prom to mosquito bites, the students begin their warmups.
Above: Amber, a fourth grader at P.S. 134,  starts the dance-class warmup.
Popping—a funky robotic dance style, with roots in California, is one of many classes that Henry Street's Abrons Arts Center provides children in after-school programs throughout the Lower East Side. Henry Street runs the entire after-school program at P.S. 134 and six additional public schools as well as in the Boys & Girls Republic and Jacob Riis Cornerstone youth community centers. The arts component of these after-school programs is organized through PATHS—Promoting the Arts Throughout Henry Street, an initiative begun in 2016 to formally integrate the arts throughout Henry Street's programming for all ages.
In launching PATHS, Henry Street followed the blueprint left by its founder, Lillian Wald, who believed that arts were an essential part of everyone's life. The Abrons arts-in-education program employs more than 40 artist-educators, who also teach theater, dance, music, and visual art in 14 additional sites, in one-off, weekly, biweekly, or semester-long engagements.
In Park's class, Alaa, who reports that her energy level is a "10," moves fluidly throughout the warmups, which include three signature popping moves—waving, tutting, and the robot. She didn't know how to dance before the class started five months earlier. "This is a good after-school class because Sun is so nice," she says.
Says Park, "Whatever has happened at home or in school, this is a type of dance that allows you to focus inside yourself."
Park studied popping in Brooklyn with Michael "Big Mike" Fields, a legend in the genre. Dancers mime robot-like motions, create geometric shapes with their bodies (called tutting after the Egyptian King Tut), and dime stop—a move familiar from break dancing.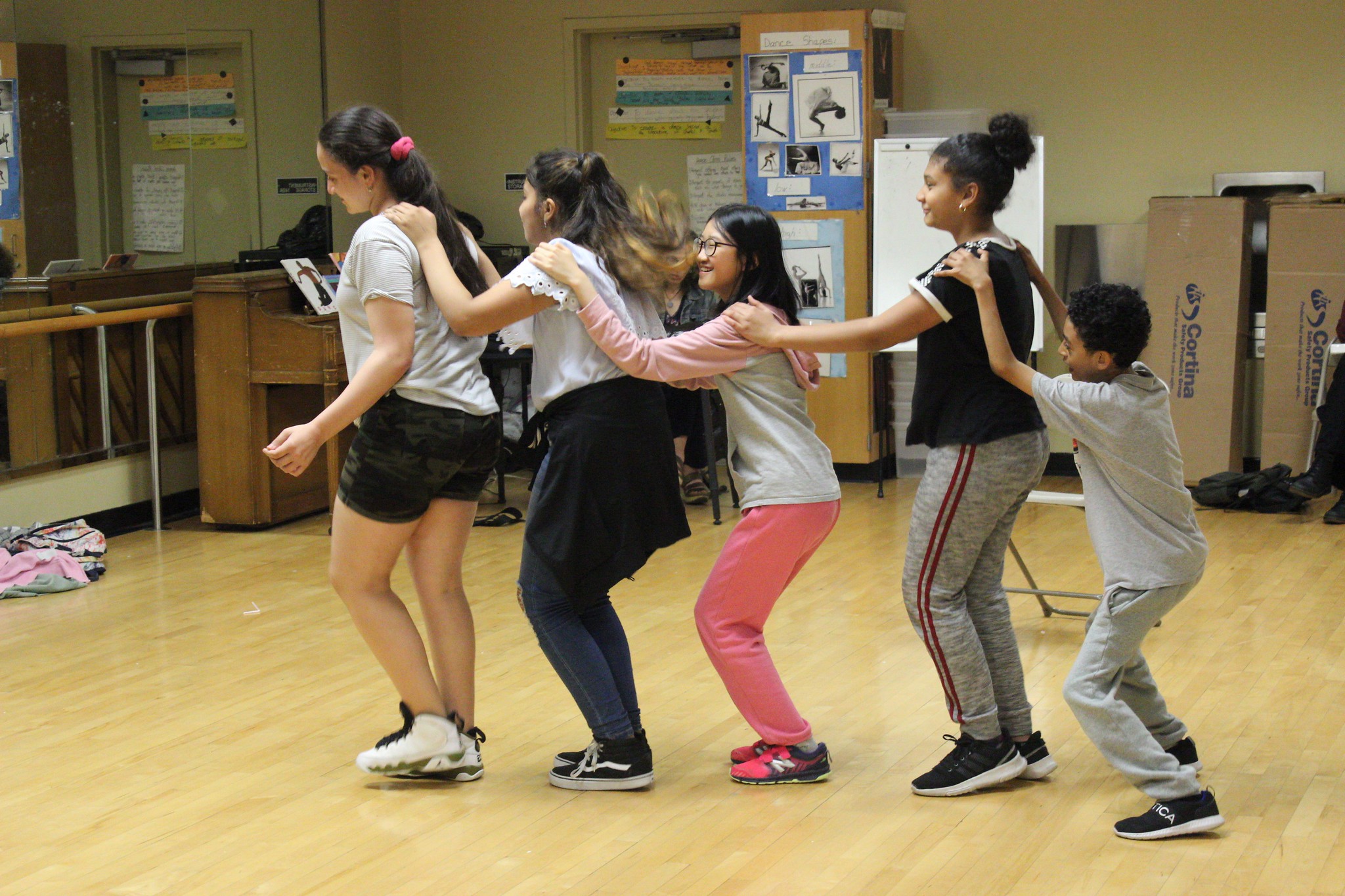 Above: improvising is always part of dance class.
PATHS Cross
Henry Street's headquarters was alive with art and music classes during its earliest years, and founder Lillian Wald believed that immigrants' transition to living in the United States was eased by keeping alive their cultural traditions—as reflected in a 1913 pageant featuring the Irish Jig and German Hopping Dance.
Since 1915, the Neighborhood Playhouse on Grand Street has been the organization's theater hub, and in 1975 the organization constructed today's Abrons Arts Center (named for the family that has been a core supporter of the organization from the start), to hold its modern-day performances and educational offerings.
Funding from the Stavros Niarchos Foundation has enabled Henry Street not only to extend arts education to children in after-school programs but to bring children from multiple public schools to attend performances at Abrons—the first opportunity for many to see a live production.
That means children living in Henry Street Settlement's Urban Family Center shelter can take after-school dance or theater classes with Abrons teachers and attend performances such as the neighborhood favorite Jack & the Beanstalk, performed at Abrons the past two winters.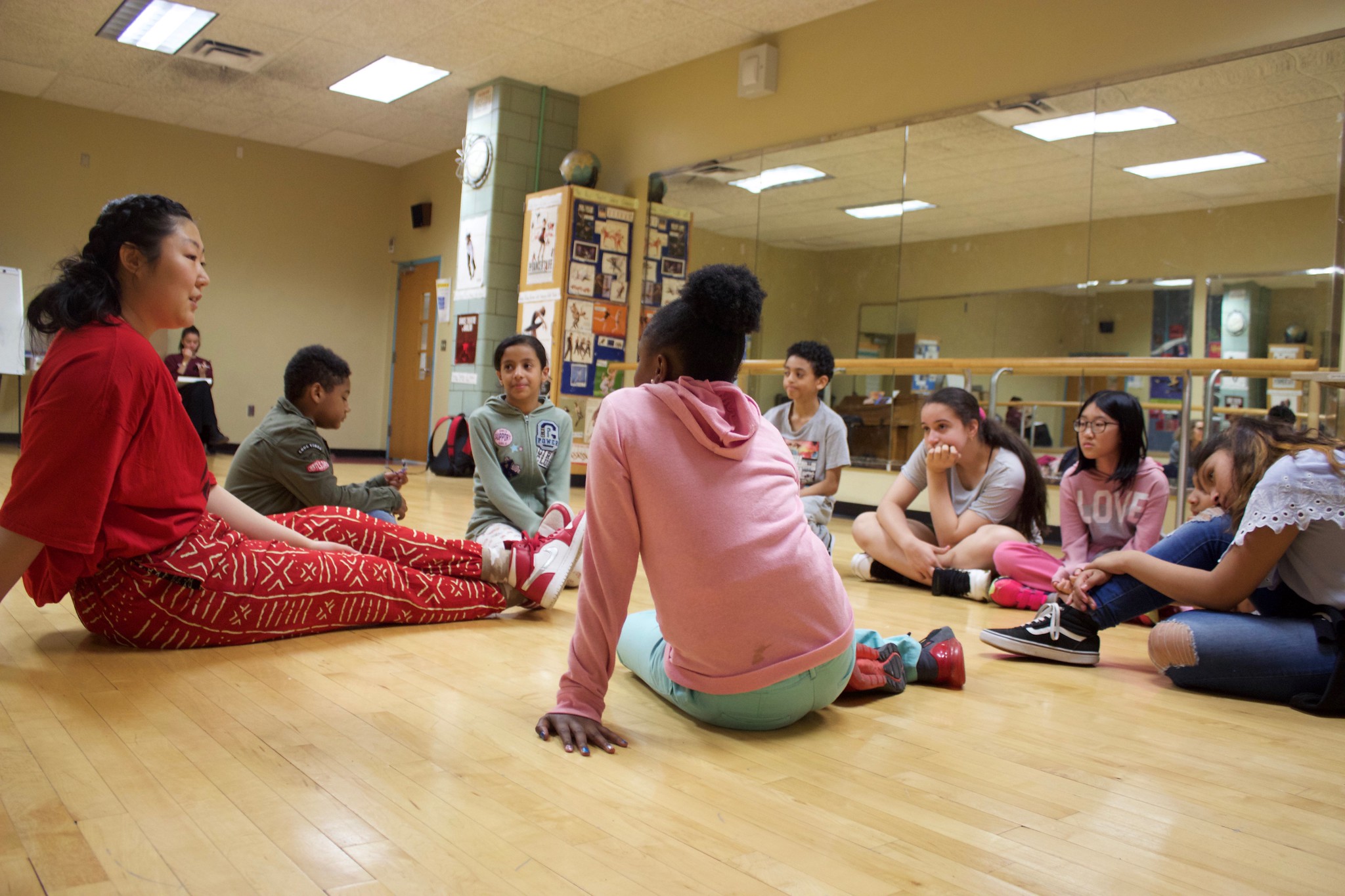 Above: the class takes time to share how they're feeling.
PATHS programming extends to adults as well: artists lead workshops and classes in our Senior Center, Transitional & Supportive Housing program, Community Consultation Center, and even the Workforce Development Center. In addition, the new Social Practice Residency, underwritten by the Radunski Family Fund, enables Abrons to support four artists who are undertaking a range of creative endeavors; the inaugural cohort is exploring issues including domestic violence, indigenous knowledge, gentrification, and gun violence. Moreover, Henry Street's intergenerational chorus, made up of singers from age four to senior citizens, rehearses weekly and has performed in the Mile Long Opera and in Theater of War's Antigone in Ferguson.
Whether placing a ceramics teacher in a mental health recovery program or bringing improv artists to help jobseekers think on their feet in an interview, the Abrons team builds and implements creative, artist-led projects with the organization's employees, clients, and neighborhood residents, creating opportunities for self-expression and community collaboration.
"Henry Street is one of only two social services agencies I know of that combine arts with social services. That means there is a lot of crossover among kids who receive social services and arts camp or music lessons," says Craig Peterson, vice president for visual and performing arts and director of the Abrons Arts Center.
"We know that the arts, and especially music, help with kids' math abilities and their test-taking confidence," he adds.
Hip-hop dance remains Abrons's most popular type of class with young people. The after-school program requires teachers with deep commitment and patience, acknowledges Chantara Ellis, director of school and community programs. "It's very hard to engage kids after a full day of school"—especially on Fridays, when Park teaches her dance class.
Yet after a long day, tired, hungry students connect with the dance form, not because they're required to, but because it calls for creativity and improvisation and gives them a chance to be themselves after the academic day is over.
Peterson notes that the transition to cultural arts practices of today, such as hip-hop, from those of the early 1900s shows how much the Lower East Side has evolved. "And yet Lillian Wald's belief—that finding a sense of "home" within a community was best achieved through the arts—is still how we think about PATHS today," he says.