From Tutor to Therapist: Nilsa Pietri's Remarkable 50-Year Career at Henry Street
By Nicole Fogarty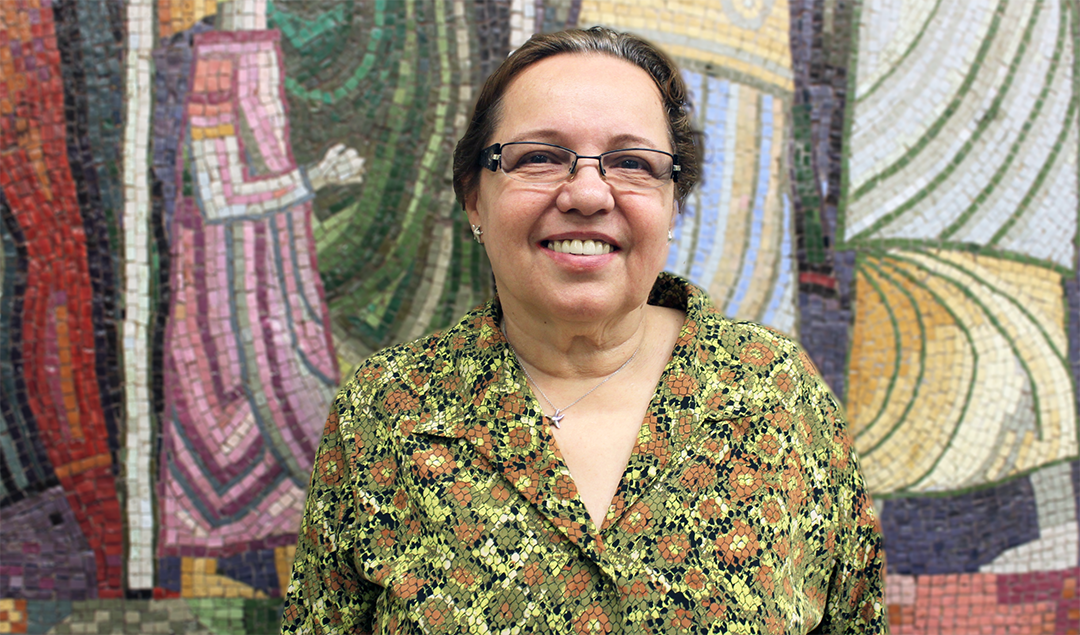 The moon landing. Woodstock. The first episode of Sesame Street. But the most important event of 1969, according to Henry Street President & CEO David Garza? Therapist Nilsa Pietri's first day of work at Henry Street Settlement. Technically, it was 1967 when Pietri started volunteering at the Settlement while still an undergrad at Hunter College, but 1969 marked her first paid position, as a tutor. From there, she became a camp counselor, mental health case aid, after-school supervisor, director of youth development, and chief administrator of youth services. After spending 37 years in Henry Street's youth services division, Pietri retired in 2006.
If you're realizing that 37 isn't equal to 50, you're right: Retirement didn't keep Pietri away from Henry Street for long. In 2007 she returned to Hunter, this time to attend social work school. Since 2009, Pietri has enjoyed a second career as a therapist for Henry Street's outpatient mental health clinic, where she still works today. Her incredible 50-year milestone was celebrated in December on Zoom, where Pietri has been working from home, by Garza and the entire Henry Street team.
It all started in an undergraduate sociology course at Hunter College. As part of the course, Pietri was required to perform six hours of community service, and she received a list of organizations to choose from. "I actually picked Mobilization for Youth," she says, "but on my way to their building in Alphabet City, I got lost and ended up at 301 Henry Street. I told the receptionist I was looking to volunteer, and that's how I got my first position."
Pietri began her volunteer position tutoring Henry Street youth. The following summer, she was offered a paid job at the day camp, and then in 1969 she became a case aid at the Community Consultation Center mental health clinic—getting her first taste of the type of work she does today. After conducting a project to bring more Hispanic and Puerto Rican young people into Henry Street's youth programs, which focused on employment and recreation, in 1972 she was tapped by Youth Development Director Jim Robinson to be an after-school supervisor. Pietri worked in that program for 17 years. One of her projects was to create the female branch of the Pioneers, a Henry Street youth mentoring program that had previously been only for male participants. In 1989, she became chief administrator of youth services—a position she held until she retired—overseeing a dramatic expansion of programs and budget, from $200,000 to $6 million.
Integrating the arts into social services—a hallmark of Henry Street's mission—has been a key part of Pietri's work. She recalls a summer early in her career when, with a grant to work with young people in foster care, Pietri, together with a job developer who was also the artistic director of Working Theater, created a program in which young people worked one-on-one with an actor, developing 10-minute skits about their lives. "The most poignant one was a skit by a young woman about telling her mom that she had been abused," Pietri says. "But then also we had people making skits about Star Trek, so it really ran the gamut."
The Settlement was a pioneer in providing mental health services during the AIDS epidemic. In one of Pietri's programs, an actor and a social worker teamed up to present skits about safer sex practices and then having a discussions about safety with the audience. "We were eventually able to bring that into the schools, and reach even more young people," she says.
Pietri credits the supportive community of women she found at Henry Street with helping to nurture her career, especially in her transitions from youth services through retirement, and then into mental health. Chiefly, she says of her first supervisor post-retirement, Lela Charney: "She's truly an angel. She's the one who pushed me and helped me go back to school to get my master's, nudged me to apply for scholarships, mentored me, and honed my clinical skills." Pietri adds that former Henry Streeter Florence Sampieri, along with Charney, helped her to develop her guiding ethos of treating the whole individual, not just their diagnosis.
Born in Puerto Rico, Pietri has particularly enjoyed the role the Spanish language has played in her work as a therapist. At least half of her clients speak Spanish—dialects from Peru, the Dominican Republic, El Salvador, Colombia, and others—and she relishes the opportunity to learn more about the language through her work. "My Spanish has become much more articulate. I tell my clients, 'if I say something that doesn't make sense, just correct me!'"
In addition to working with Spanish-speaking clients, Pietri runs a bilingual support group for Hispanic women over the age of 50 who are experiencing depression, which she says has helped expand her skills as a therapist and facilitator. "Unlike in individual therapy, when you're facilitating a group, you don't come in as the expert—you really just come in as part of the group," she explains. "It's much more about self-help and mutual aid, and should almost direct itself after a certain amount of time."
Working with youth has been a major throughline between Pietri's two careers at Henry Street. "I still work with some teens, which really brings me back to the beginning of my career," she says, adding that, as a youth-services worker, she just naturally did a lot of "what looked like counseling" back then. "The youth had a lot of questions about things like cultural identity, dealing with authority, and how to figure out who they were, so we would talk about it."
Young people are an everlasting source of hope for Pietri—like her 24-year-old granddaughter Cristina, who's embarking on a therapy career of her own in Williamsburg, just a few blocks from where Pietri and her family first lived when they came to New York from Puerto Rico in 1956. "She's young, but so talented and so compassionate about her work," says Pietri, adding that seeing sparks of compassion throughout Henry Street's work is an additional source of hope.  "But really," she muses, "it's people who have always given me hope. Having a breakthrough with one of my clients, hearing laughter from people who have experienced loss, gives me hope for the future, especially now."