Honoring Special Seniors
By Nicole Fogarty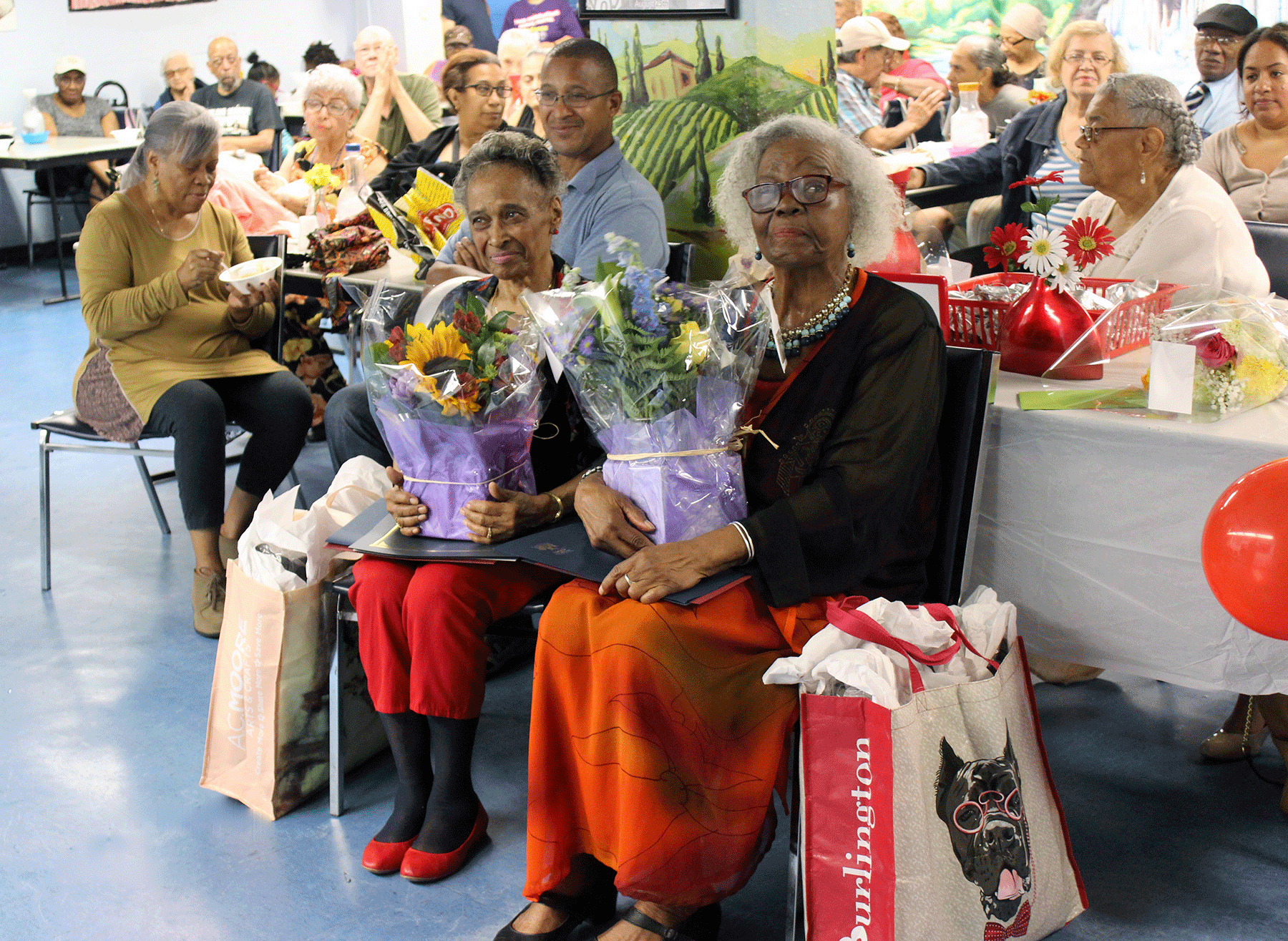 Providencia (left) and Gloria (right), surrounded by friends, family and gifts at their recognition celebration. 
The Henry Street Settlement Senior Center is no stranger to celebrations. From spirited karaoke performances and dance parties to the annual holiday bash with Fir Tree Partners, our seniors know how to party. Most recently, the Center hosted a very special recognition celebration, honoring the combined 42 years of service of two of its most dedicated volunteers (and members): Providencia Rosario and Fidelia (Gloria) Dorival.
Both women have given over 20 years each to the Senior Center and Senior Services as a whole, and continue to volunteer on a regular basis (even at their celebration they contributed by pitching in to buy the cake!). Providencia has served as a greeter, assistant cook, kitchen aide and activity leader, and donated her time and money to the Center's programs. Gloria spent many years as a Senior Companion and, as a cook by trade, volunteers in the kitchen preparing breakfast for the Sunday program, among other roles and contributions.
Senior Services team members, Henry Street employees, community members and families of the honorees joined Senior Center members in celebrating the pair's dedication.
Settlement Executive Director David Garza expressed amazement at the service the honorees had given over the years. "Some people give their time to causes they care about. Some people give their money, and some people give their heart. Each is commendable, but then there are people like you who give all three," he said. "You have emerged as leaders in the community who show us all how to care for each other."
Garza issued Henry Street Proclamations to the honorees, a first for the Settlement, which can be viewed here.
Senior Center members and employees took turns at the microphone thanking the women for their help over the years, and there wasn't a dry eye in the house when Providencia's son spoke about the importance Henry Street played in his family's life.
"My siblings, my mother, me—we are all products of Henry Street Settlement, and it's so comforting to know that my mother is never alone. She has all of you," he said.
The Settlement wasn't the only one celebrating Providencia and Gloria; representatives from State Assemblymember Yuh-Line Niou's office were on hand to present the honorees with a special citation from the New York State Assembly, and Henry Street's Deputy Development Officer for Public Policy and External Relations Jeremy Reiss presented them with citations from State Senator Daniel Squadron and City Councilmember Rosie Mendez.
In between cake, dancing and karaoke, the two women expressed their gratitude, each declaring how much they cherished the opportunity to give back to Senior Services, and how proud they are that the Senior Center is the only place they go every day!
The Senior Center is always open to new members—visit their web page for a full calendar of events, membership and contact information and more.
Click here or below to view more photos.