We Bought a Firehouse!
By Henry Street Settlement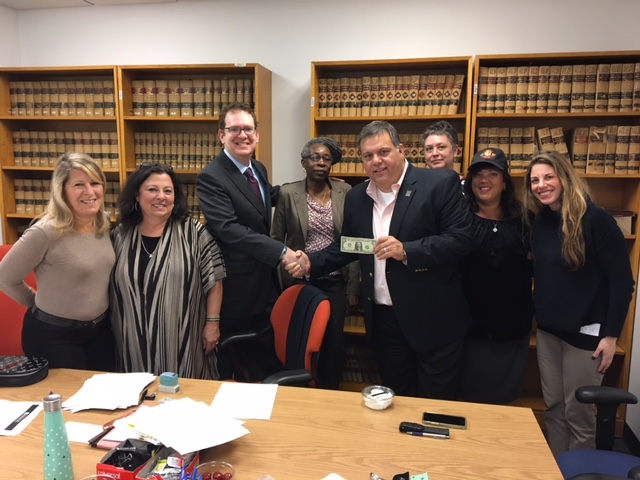 Above, left to right: Marjorie Hoffman, title closer; Lisa Zydel, attorney, Schulte Roth & Zabel LLP; Bryan Kaplan, HPD attorney; Ethel Collins, HPD Planning & Development; Henry Street Settlement Team Members David Garza, Renee Epps and Josephine Lume; Marissa Levy, attorney, Schulte Roth & Zabel LLP
Henry Street got an early 125th birthday gift on October 25, 2017, when it took possession of the vacant firehouse at 269 Henry Street, adjacent to its historic headquarters.
The three-story firehouse, former home of Engine Company No. 15, has been empty since November 2001, when the FDNY relocated the company to Pitt Street.
Henry Street has been working to get the building for more than a decade and the purchase price from New York City was right – just $1.  But first, the agency needed to demonstrate that it had the funds to renovate and repurpose the c. 1874 building. This was made possible by very generous gifts from the Burch Family Foundation, the New York State Regional Economic Development Council and others during Henry Street's recent Capital Campaign.
The new building, to be named the Dale Jones Burch Neighborhood Center at Henry Street Settlement, will be home to the Settlement's Parent Center and Resource Center, which will move from 281 East Broadway once renovation is complete in 2020. The new space will be handicapped (and stroller) accessible, and is where community members can access free legal and financial counseling, benefits screening and enrollment in food stamps and affordable health insurance, as well as a variety of free parenting workshops and classes.
"We are eagerly anticipating this critical addition to the Settlement," said David Garza, Executive Director of Henry Street. "Traditionally an anchor for the community, the firehouse will again play the role of 'first responder' for families in crisis – this time ADA-compliant and accessible to all."