COVID-19 Updates at Henry Street Settlement
By Henry Street Settlement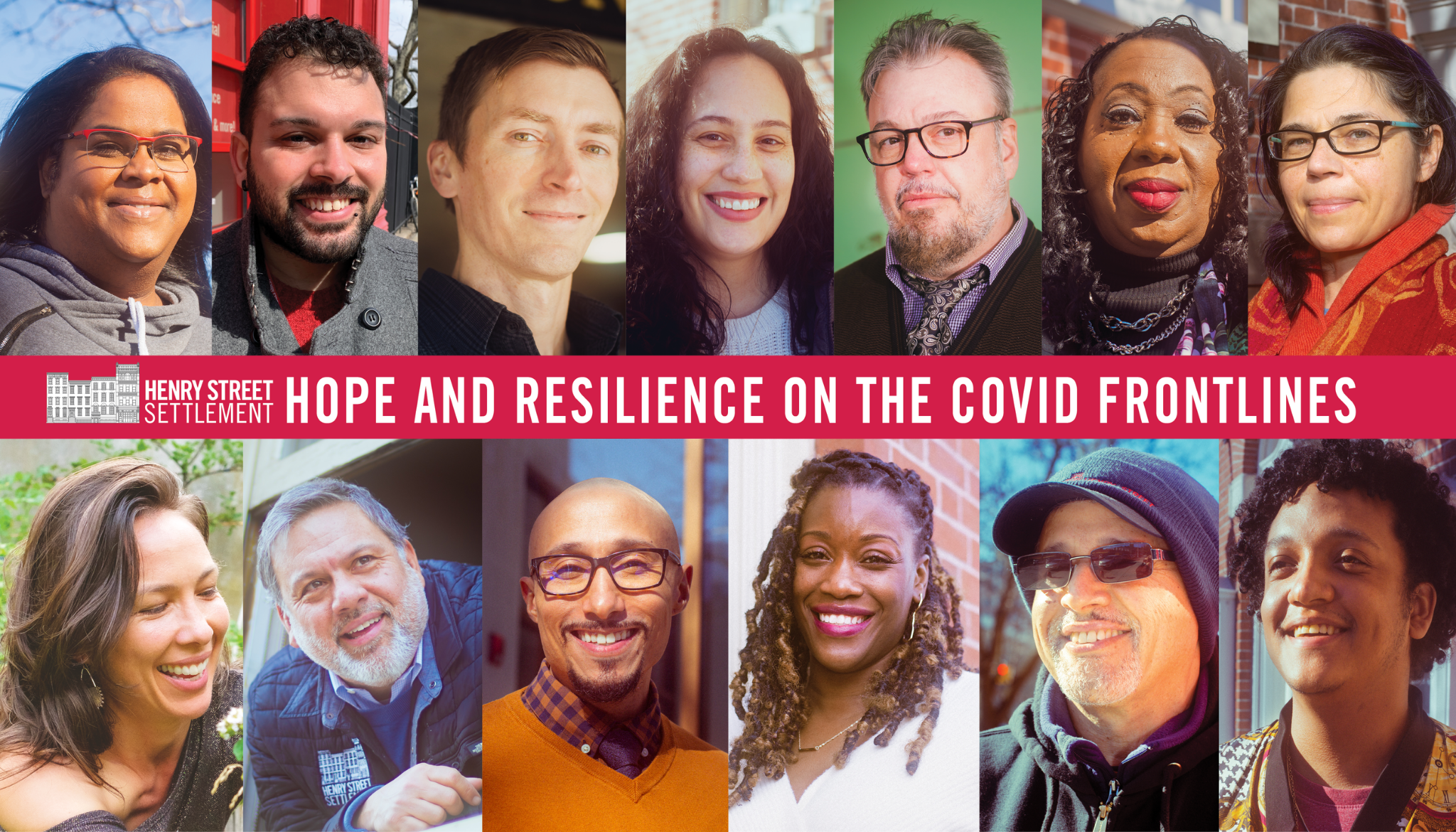 Henry Street Settlement is pleased to launch "Hope & Resilience on the COVID Frontlines," an oral history project, on our website, henrystreet.org/oralhistory.
The project is the culmination of 30 oral history interviews with Henry Street frontline staff members, program participants, and neighborhood residents, recorded in spring and early summer 2020. During this period, Henry Street underwent a significant pivot, with frontline workers creating new programs practically overnight in response to community needs and steering the organization through an unpredictable time while managing their own fears and losses. Thirteen edited audio clips appear in the exhibit.
Henry Street Settlement's response to the COVID-19 crisis, beginning in early March 2020, has engaged every Henry Street program, every team member. Our 128-year-old blueprint for listening to our neighbors and taking action in times of need, and our dedicated and flexible team, have enabled us to pivot and create multiple new programs, while carrying out existing programs either in-person or remotely.
Henry Street is continuing to provide 14,000 meals a week, answering urgent phone calls through the community Helpline we launched in April 2020, and making weekly check-in calls to our senior citizen community members. Now that our programs are welcoming participants in person, our pre-K, Abrons Arts Center, afterschool, and college prep program are fully operational onsite, and our Community Consultation Center, Workforce Development Center, and Dale Jones Burch Neighborhood Center are seeing participants both onsite and remotely.

Henry Street Helpline
The Henry Street Helpline, launched at the start of the pandemic, has received 1,300 calls from people in need of support or resources. The Helpline is now staffed by counselors with N.Y. Project Hope, Henry Street's FEMA-funded program to help community members cope with their feelings amid the pandemic. Staff can assist callers in obtaining food, accessing mental health services, securing unemployment assistance and other benefits, and navigating any other crises. The Helpline is open from 10 a.m. to 2 p.m. and from 4 p.m. to 7 p.m. Monday through Friday, and is staffed by a team of 10 social workers and case managers. English, Spanish, and Mandarin speakers are available. If you have a question, concern, or issue, give the Helpline a call at 347.493.2787.
Food Access Initiatives
To address the food insecurity crisis on the Lower East Side, Henry Street early in the pandemic established several new food initiatives. Two food pantries expanded on the work of the local LES food bank Vision Urbana; another meal delivery program has been dedicated to local seniors.  For five months, we delivered three meals daily to the nearly 600 residents of our shelters and supportive housing residencies, including over 200 children, significantly minimizing their need to go outside and addressing the difficulty in accessing nutritious and affordable food locally Additionally, are operating the LES Mobile Market in August 2020 with NewYork-Presbyterian; the initiative employs local young people who make bimonthly food deliveries to 180 food insecure families living in public housing on the Lower East Side and connects these families to all Henry Street services. Our main food packing and delivery operation was based for more than a year on the stage of our Abrons Arts Center, where more than a dozen arts workers were redeployed. After delivering more nearly 62,000 pantry bags and meals across the community, Henry Street has been able to close its Abrons-based home delivery pantry.
Emergency Cash Assistance
Henry Street has distributed nearly $300,000 through three emergency cash assistance programs to provide direct financial support to those in need. We launched a fund that provided disbursements of up to $2,000 for 98 workers who had lost their jobs due to COVID-19, including undocumented immigrants and others ineligible for government benefits.  We also provided small grants of up to $150 for Lower East Siders to cover key emergency expenses, such as food, baby-care items, and medicine. Through the Abrons Arts Center and Henry Street Settlement Artist Community Relief Fund, microgrants of $200 to $500 were distributed to 140 local LES- and Chinatown-based artists and arts workers whose income has been directly impacted by the pandemic. In addition, wages and cash stipends for youth participants in a variety of summer work and learning programs bring the total of emergency assistance up to approximately $500,000.
Enhanced Services for Seniors
When it became clear that it was imperative seniors stay inside to protect their health, Henry Street's Meals on Wheels program, the largest in Manhattan, experienced an unprecedented and rapid expansion. We are now delivering over 14,000 meals to 2,200 recipients each week—a 40% increase from before the pandemic. Our Senior Services division is also engaging more than 50 volunteers to make check-in phone calls with seniors—assessing well-being, identifying and responding to urgent needs, and making sure our seniors have a friendly person to talk to.
Community COVID Response Team
Among Henry Street's newest programs is the Community COVID Response Team. Addressing several intersecting needs, this program launched during summer 2020 is a squad of about 20 people ages 14 to 24, whose community-assistance work touches all corners of Henry Street. From the sweltering sun of July to snowstorms of January, the team has delivered food, set up PPE distribution sites in Lower East Side NYCHA developments, worked at a pop-up COVID testing site, and provided information about emergency assistance options to more than 4,000 NYCHA households. They have also coached older adults on using the internet so they can participate in online activities and stay connected to the world around them. 
COVID Safety Protocols
Henry Street's program sites require that visitors wear a mask, take their temperature, and complete a COVID screening document.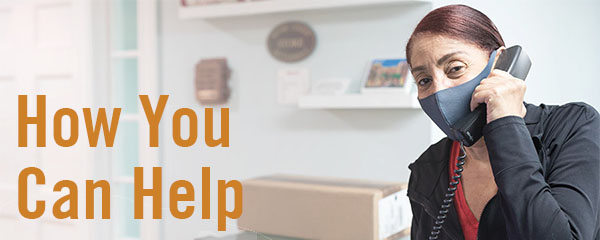 DONATE
Financial support of any amount helps us ensure the safety and well-being of our neighbors. Donate online here.
VOLUNTEER
Henry Street has launched new volunteer initiatives to ensure that our community is able to weather this storm. Read about current opportunities and sign up online here.
SPREAD THE WORD
Let your friends and family know about the work Henry Street Settlement is doing. Share our social media platforms like our Facebook, Twitter, and Instagram with your networks.