COVID-19 Updates at Henry Street Settlement
By Henry Street Settlement

Henry Street's core services never close.
As the COVID-19 crisis continues, Henry Street is listening to our neighbors' needs, adapting programs substantially to meet those needs, and responding to the best of our ability amid rapidly changing conditions.
Update: Monday, May 14, 2020
This week, Henry Street is:
Operating three food pantries, out of Boys & Girls Republic on East 6th Street, 301 Henry Street, and our Senior Center, hand-delivering meals to 482 community members.
Answering calls through our Helpline (347-493-2787) with 16 case managers who can help resolve a wide variety of urgent needs for Lower East Side neighbors and any New Yorkers.
Delivering Meals on Wheels to an increased client base of more than 2,200, due to the dramatic growth in the numbers of seniors and immunocompromised people needing to stay home.
Providing online jobs counseling to members of our JET and Jobs Plus programs and placing workers with industries that are hiring.
Distributing three meals a day to 600 residents of our four homeless shelters and supportive housing residences.
Placing workers in industries that are hiring! Our Workforce Development Center has placed 25 workers in delivery, security, retail, and other positions.
Making some 1,500 phone calls per week to isolated seniors. Professional team members are calling frail elderly with greater needs, and volunteers are calling hundreds of others.
Providing Abrons Education arts instruction programs online.
WHAT WE ARE DOING NOW:
Henry Street Helpline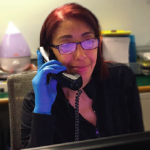 On April 1, Henry Street launched a comprehensive Helpline, staffed 12 hours a day by 16 case workers, to address the health, psychosocial, and financial effects of the COVID crisis on our community. The Helpline has responded to more than 430 calls about accessing home-delivered senior meals, unemployment insurance, and emergency financial resources, as well as highly specific issues such as how to help a family urgently obtain specialized meals for an immunocompromised child. Callers are also directed to Henry Street programs such as ESOL or HSE classes, mental health services, and much more.
---
Food Access Initiative: Three New Pantries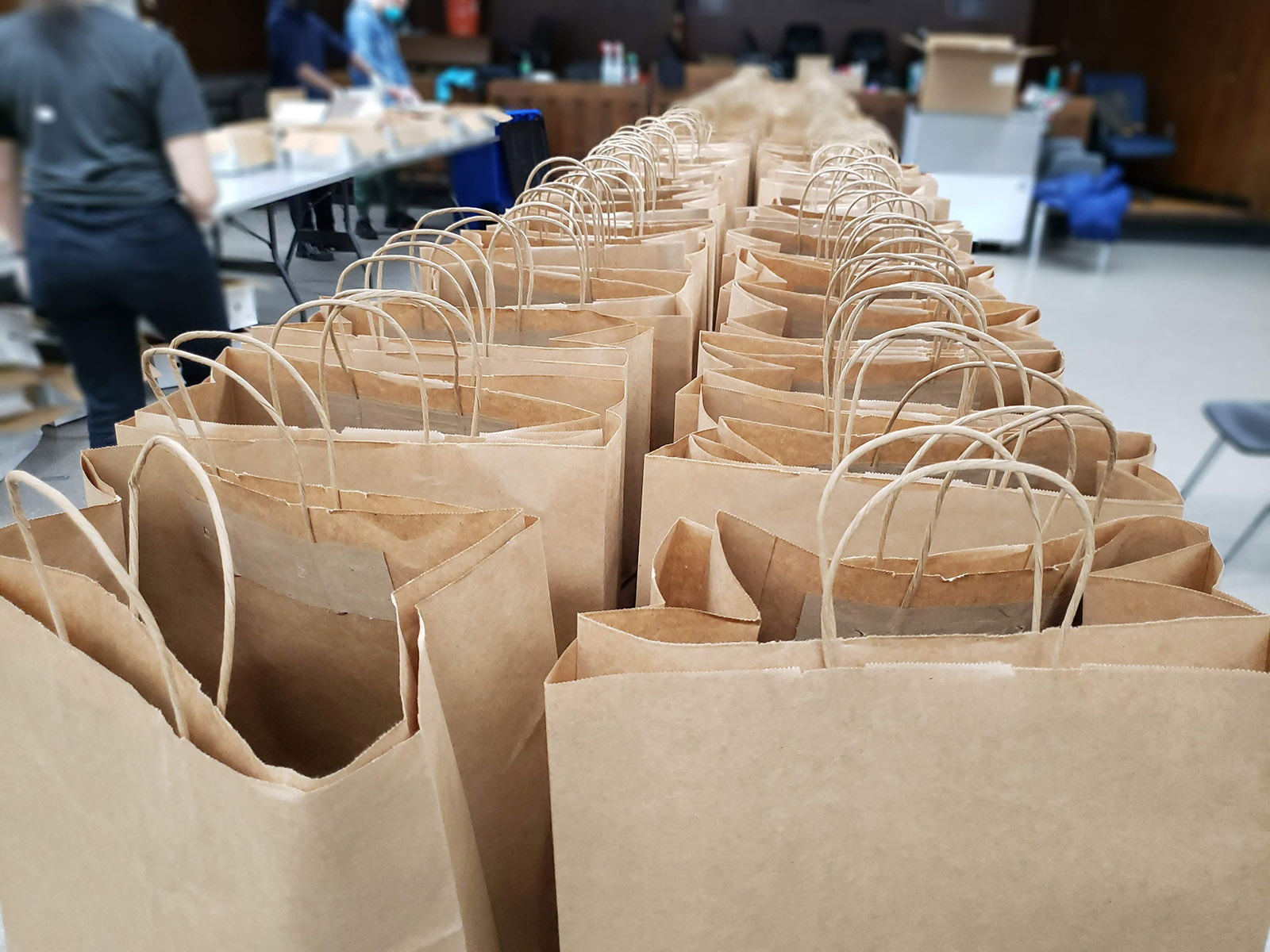 Henry Street has opened three emergency food pantries–two of them in conjunction with the organization Vision Urbana–based out of our Boys & Girls Republic community center on East Sixth Street and Education Services Building at 301 Henry Street.  Two of the new pantry sites expand on Vision Urbana's established food pantry operations, which have been in operation since 2018.  The partnership with Henry Street helps expand the impact of Vision Urbana's efforts, bringing the reach of the pantry to hundreds of families north of Delancey Street in addition to the base they have established on the south side of the neighborhood.  We've opened a third pantry site at our Senior Center, and now deliver groceries to nearly 500 people a week throughout Lower Manhattan.
Recipients are homebound isolated seniors, immunocompromised people, and those who have lost their livelihoods due to C
ovid
-19. Redeployed Henry Street team members
—
many from our Abrons Arts Center
—
and volunteers are hand-delivering grocery bags filled with a variety of nutritious foods or prepared meals. Long-time partner UPS is generously transporting food delivered to the Vision Urbana pantry by the Food Bank For New York City to two of our satellite locations.
---
Transitional & Supportive Housing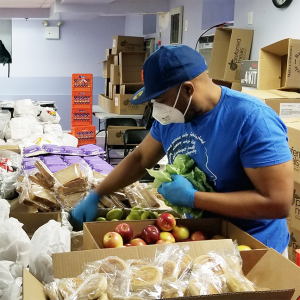 Henry Street is continuing to provide three meals a day to 600 residents of our four apartment-style homeless shelters and two supportive housing residences so that they can stay home. We're quadrupling down on cleaning common areas, educating residents on how to stay safe, and most important, working to ensure that families that rely on school meals for their children have access to healthy meals, as well as social and emotional support. Our team is also providing emotional support to children in our shelters so they can stay up-to-date with school and helping them navigate any technological issues they encounter.
---
Senior Services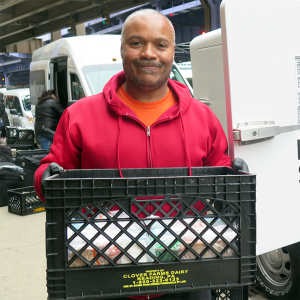 The Henry Street Senior Center and Senior Companion Program—with the help of 100 volunteers—is calling isolated seniors every day, making sure they are staying safe and connected to health care resources if needed. Our large Meals on Wheels program has increased food distribution by 37%, serving more than 2,200 homebound people throughout the city. Services are modified to provide more meals at a time, reducing contact with clients.
---
Redeployed Nurses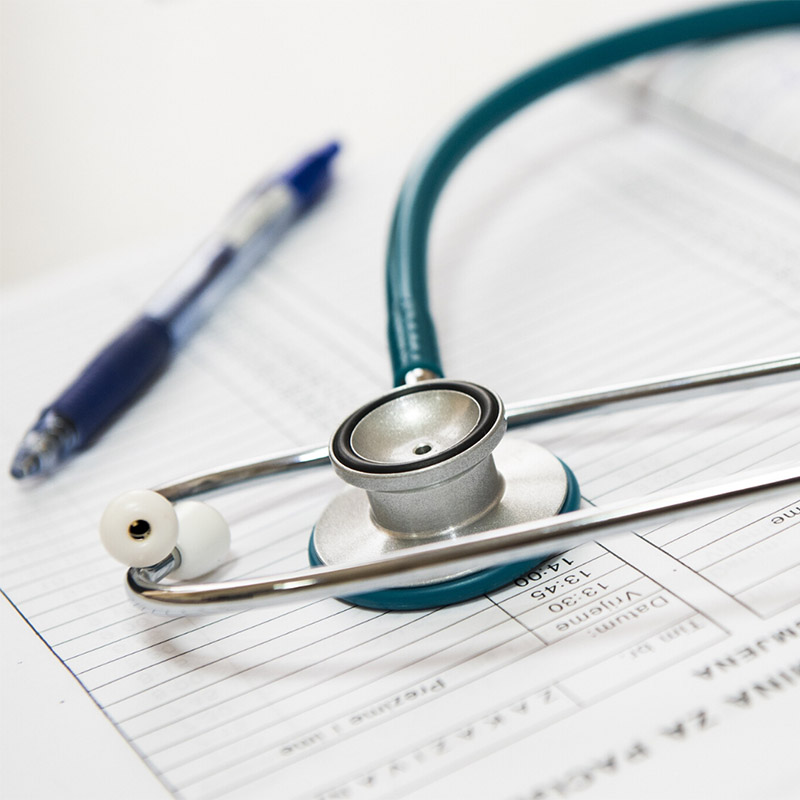 Henry Street has redeployed nurses from several of our programs to meet urgent needs. Nurses from our Community Consultation Center, who ordinarily provide preventive care for psychiatric patients, are now staffing our transitional and supportive housing residences so that residents with imminent health issues (such as hypertension or diabetes) may receive timely attention without resorting to the hospital. Our Seniors Services nurses are checking in with vulnerable older adults by phone and making home visits when needed.
---
Community Consultation Center
Our mental health staff are providing very limited onsite services and moving to a virtual counseling model. On May 5, the team launched
two different support groups
for those impacted by COVID-19. Please call 212.233.5032 if you need assistance.
---
Education Services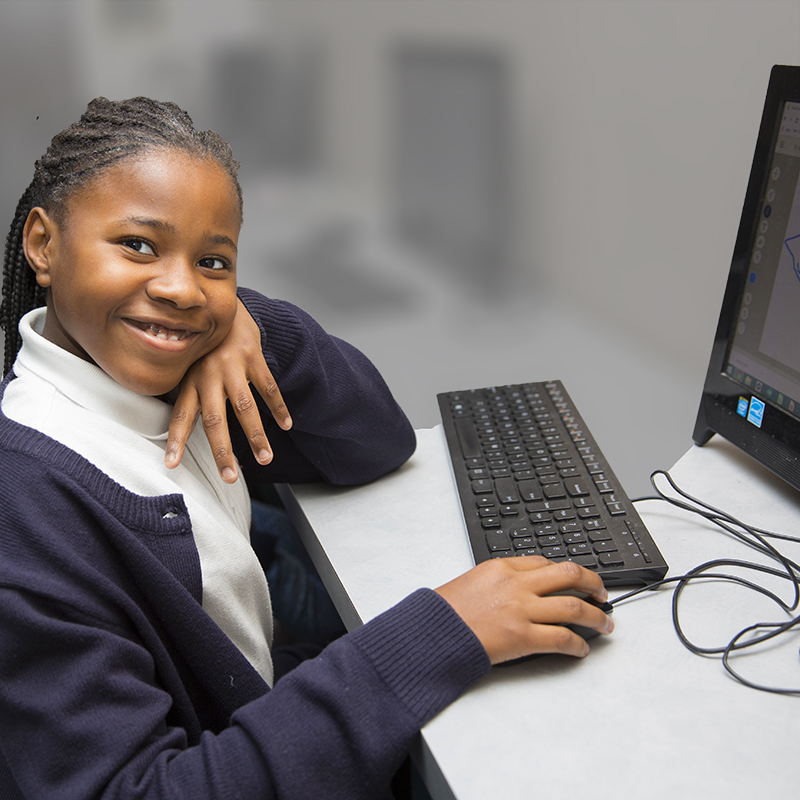 Youth programs including the Expanded Horizons College Success Program and the Youth Opportunity Hub have moved to online platforms to ensure that teens and young adults can continue to receive supportive and educational services throughout the crisis. Team members are providing college counseling, job/internship readiness classes, tutoring, homework help, and more.
---
Neighborhood Resource Center
The NRC is open by phone, and staff are available for consultation on public benefits, health care enrollment, case management, and more.
---
Workforce Development Center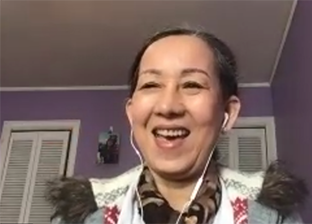 Responding to the needs of laid-off workers, Henry Street has placed 25 of our workforce participants in jobs with industries that are hiring. ESOL and high school equivalency classes are operating successfully online. JET and Job Plus are providing virtual programming, such as resume preparation and interview skills workshops. Jobs Plus is also providing financial counseling and connecting people to other Henry Street Services.
---
Abrons Arts Center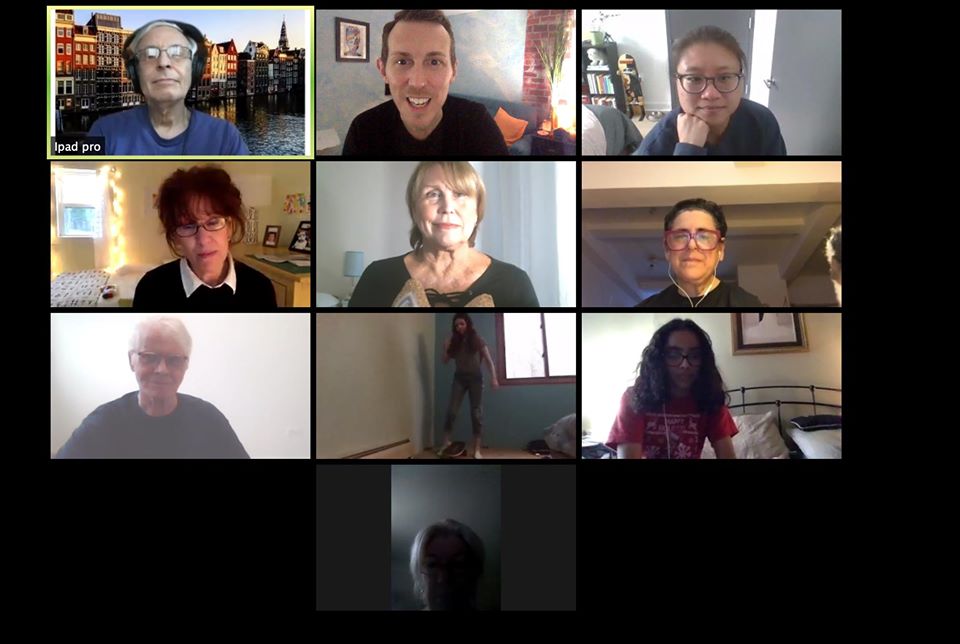 Our music teachers are teaching private lessons online, and our group classes, from hip hop to rock band and from yoga to Saturday morning cartooning, are available virtually. In addition, because artists and arts workers are among the communities hit hardest by the COVID-19 crisis, we have established the
Abrons Artists Community Relief Fund
to help artists whose income has ground to a halt due to cancelations of shows and exhibitions and loss of freelance work.
HOW YOU CAN HELP:
Many people have asked how they can help Henry Street at this time. The best way to help is by making a monetary donation to our COVID-19 Emergency Relief Fund at henrystreet.org/donateCOVID19relief. Henry Street is incurring significant emergency expenses, including staffing, food, increased maintenance, vital supplies, and making modifications to our services to best serve our community. We need your help so Henry Street can ensure the safety of our neighbors.