COVID-19 Updates at Henry Street Settlement
By Henry Street Settlement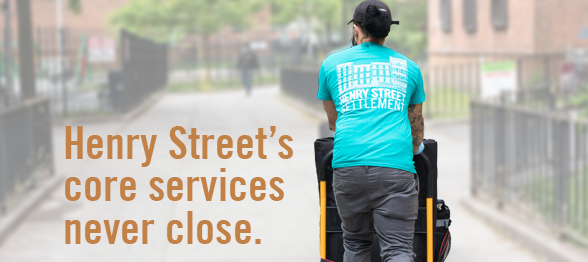 Our response to the COVID-19 crisis, beginning in early March 2020, has engaged every Henry Street program, every team member, and every resource like no crisis has in a generation. Our 127-year-old blueprint for listening to our neighbors and taking action in times of need, and our dedicated and flexible team, has enabled us to pivot and create new programs practically overnight.
Throughout the crisis, Henry Street has provided 22,000 meals a week, answered hundreds of phone calls through our newly launched community Helpline, and made weekly check-in calls to 600 seniors—all of which continue to this day. Extensive programming has also moved online, including ESOL and job placement, mental health services, arts classes, college prep and other academic-support programs, and more. Read on for a closer look at Henry Street's ongoing response.

Henry Street Helpline
In early April, the Henry Street Helpline launched to help anyone who needs individualized support or resources. Our Helpline is open from 8 a.m. to 8 p.m., Monday through Friday, and is staffed by a team of 20+ social workers and case managers. Helpline staff can assist callers in obtaining food, accessing mental health services, securing unemployment assistance and other benefits, and navigating any other crises. English, Spanish, and Mandarin speakers are available. We've answered more than 800 calls and counting; if you have a question, concern, or issue, give the Helpline a call at 347.493.2787.
Food Access Initiatives
To address growing food insecurity on the Lower East Side, Henry Street has established several new food initiatives. Two food pantries expand on the work of the local LES food bank Vision Urbana; another meal delivery program is dedicated to local seniors. To date, we've delivered more than 15,000 pantry bags and meals across the community. For five months, we delivered three meals daily to the nearly 600 residents of our shelters and supportive housing residencies, including over 200 children, significantly minimizing their need to go outside and addressing the difficulty in accessing nutritious and affordable food locally; we continue to provide groceries to several hundred residents. Additionally, we launched the LES Mobile Market in August 2020 with NewYork-Presbyterian; the initiative employs local young people who make bimonthly food deliveries to 200 food insecure families living in public housing on the Lower East Side and connects these families to all Henry Street services.
Emergency Cash Assistance
Henry Street created three emergency cash assistance programs to provide direct financial support to those in need. We launched a fund to provide disbursements of up to $2,000 for workers who had lost their jobs due to COVID-19, including undocumented immigrants and others ineligible for government benefits.  We also provided small grants of up to $150 for Lower East Siders to cover key emergency expenses, such as food, baby-care items, and medicine. Finally, we created the Abrons Arts Center and Henry Street Settlement Artist Community Relief Fund, which provided grants of $250 to local LES- and Chinatown-based artists and arts workers whose income has been directly impacted by the pandemic. Through these programs, Henry Street distributed over $225,000 in emergency relief funds.
Enhanced Services for Seniors
When it became clear that it was imperative seniors stay inside to protect their health, Henry Street's Meals on Wheels program, the largest in Manhattan, experienced an unprecedented and rapid expansion. We are now delivering over 14,000 meals to 2,200 recipients each week—a 40% increase from before the pandemic. Our Senior Services division has also engaged more than 100 volunteers to make check-in phone calls with seniors—assessing well-being, identifying and responding to urgent needs, and making sure our seniors have a friendly person to talk to.
Moving Programs Online
Henry Street's core programs have remained open throughout the pandemic, though many services have moved online to ensure the safety of all participants. Team members nimbly adapted to the technology, remaining connected to program participants, with a lot of help from our Facilities and IT departments.
Jobseekers moved to Zoom for employment programs such as the Job Essentials Training, Jobs Plus Lower East Side, the ATTAIN Computer Lab, and ESOL & HSE classes.
After-school and evening programs, Expanded Horizons college preparation, summer day camp, and early childhood education all moved to online platforms to stay connected.
Mental health, senior services, and the Parent Center went remote and have been able to provide substantial services—from counseling to exercise classes—online.
Many of Abrons Arts Center's performances from its vast catalog are available to audiences via Vimeo. All arts classes moved online.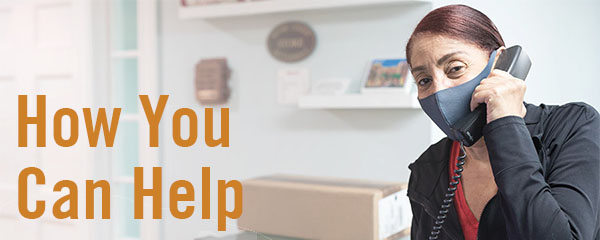 DONATE
Financial support of any amount helps us ensure the safety and well-being of our neighbors. Donate online here.
VOLUNTEER
Henry Street has launched new volunteer initiatives to ensure that our community is able to weather this storm. Read about current opportunities and sign up online here.
SPREAD THE WORD
Let your friends and family know about the work Henry Street Settlement is doing. Share our social media platforms like our Facebook, Twitter, and Instagram with your networks.