Raising Voices and Celebrating: Neighbors Gather at Henry Street Community Day
By Henry Street Settlement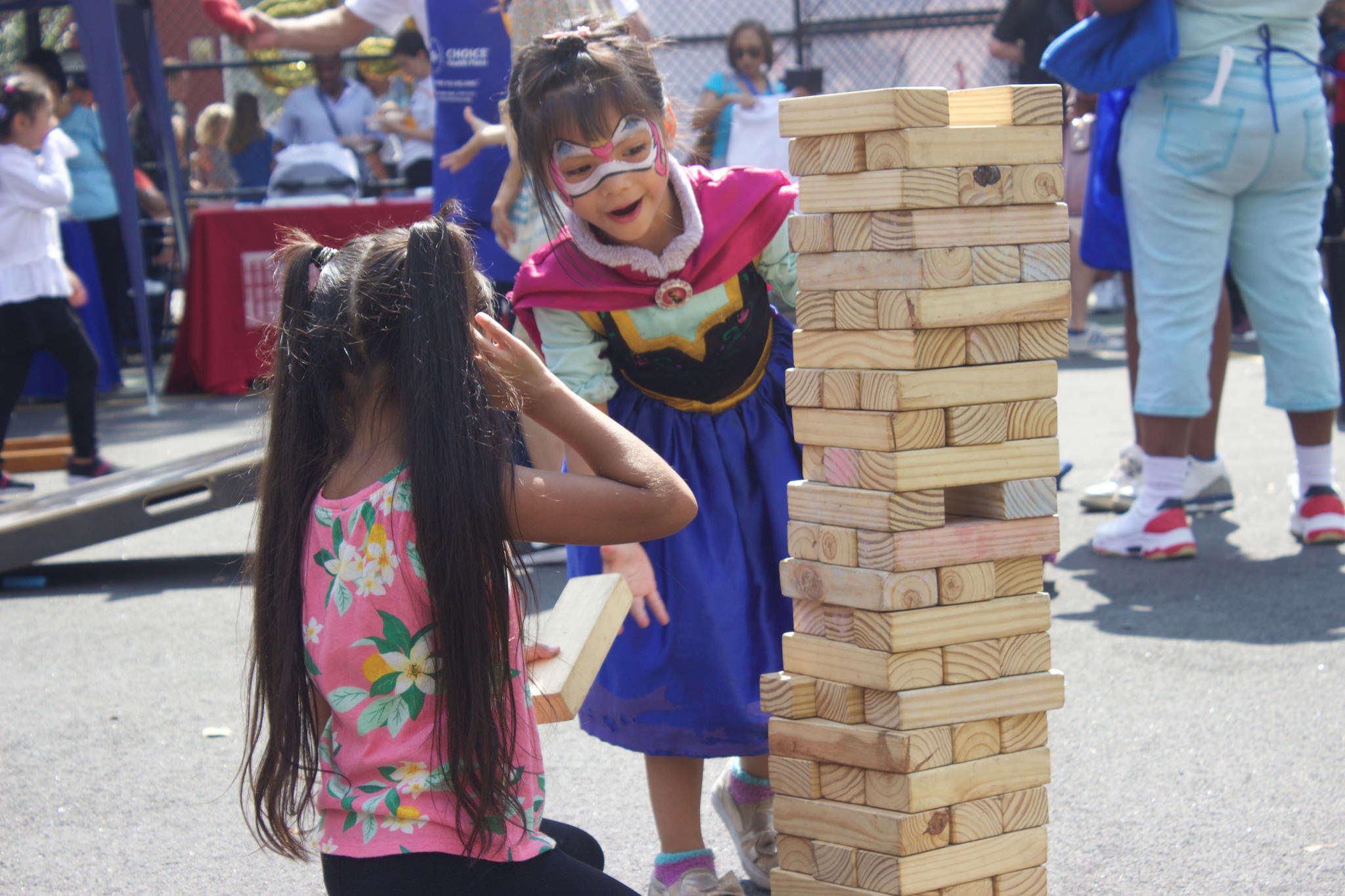 Above: Young community members having fun at Community Day. Photo by Henry Street Settlement/Nicole Fogarty.
Henry Street was abuzz on Sunday, September 16, as dozens of community members gathered for the Settlement's annual Town Hall Meeting, and then more than 1,000 joined Henry Street and Visiting Nurse Service of New York for a joyous Community Day block party to commemorate both organizations' 125th anniversaries.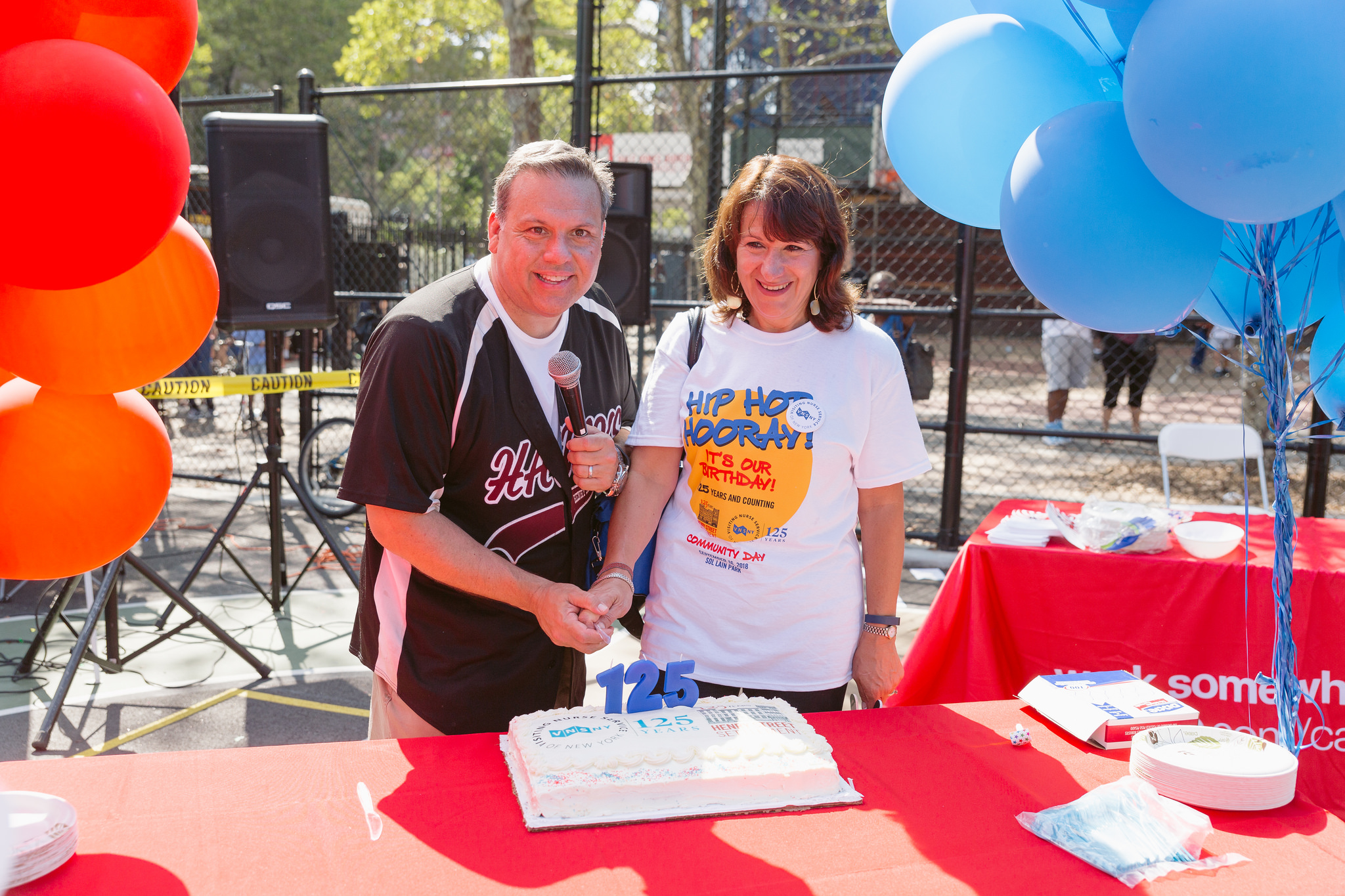 Above: Henry Street Executive Director David Garza and Marki Flannery, CEO of Visiting Nurse Service of New York, prepare to cut the cake to celebrate both organizations' 125th anniversary. Photo by Cesarin Mateo.
Housing, Policing, Getting to Know Neighbors Are Top Issues at Town Hall Meeting
At the Sunday morning Town Hall meeting, community members, Community Advisory Board (CAB) members, Henry Street employees, and board members gathered in the gym at 301 Henry Street to discuss their concerns and hopes for the Lower East Side, Henry Street's services, and how the Settlement can help. Past Town Hall feedback has led directly to innovative Henry Street programs.
"Closed mouths don't get fed," said CAB member Shawntel Dunbar, introducing the meeting. "If you want to create change, you have to make sure your voice is being heard, and work together with your community. There's no 'I' in team—or in Henry Street Settlement!"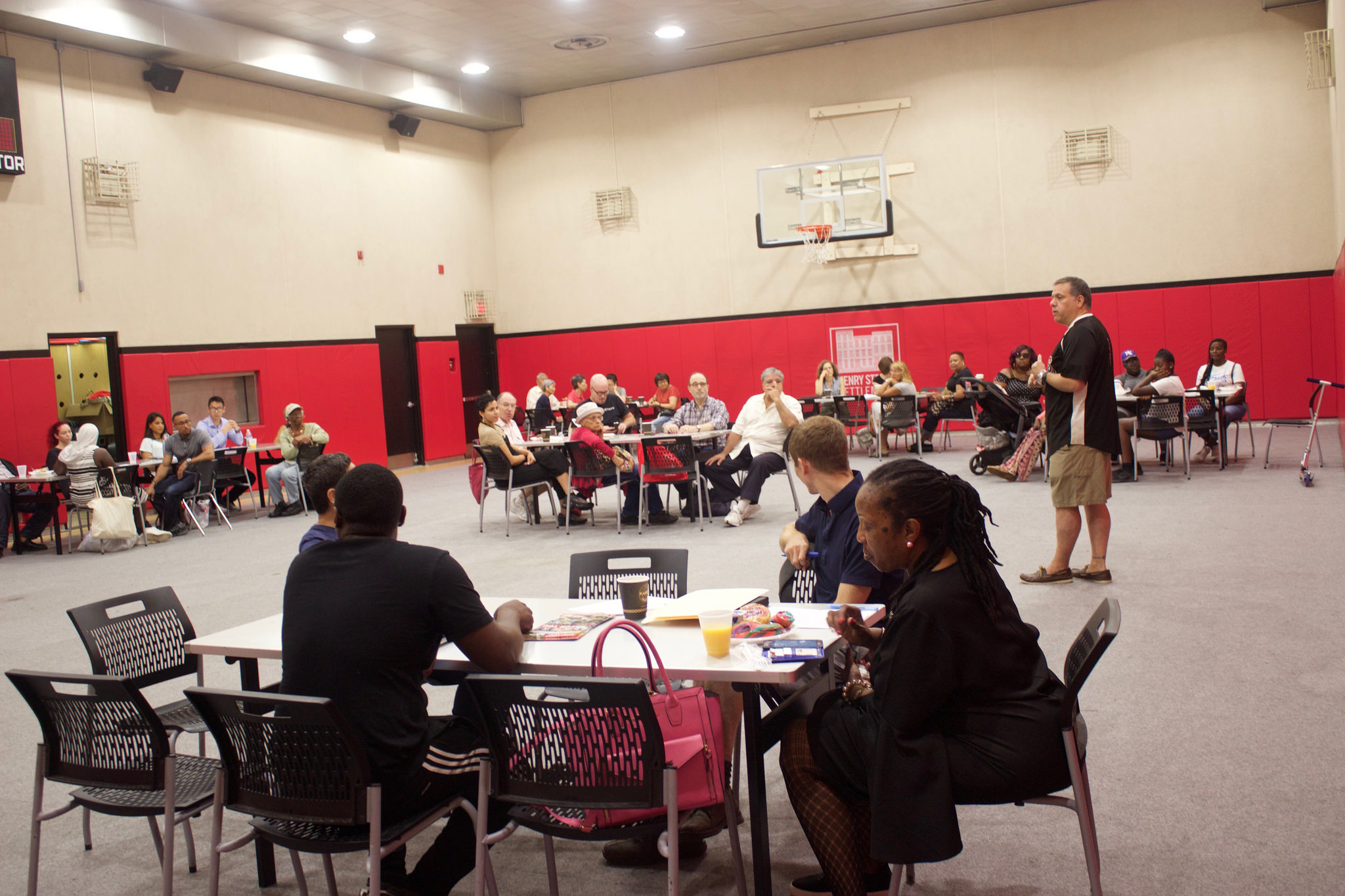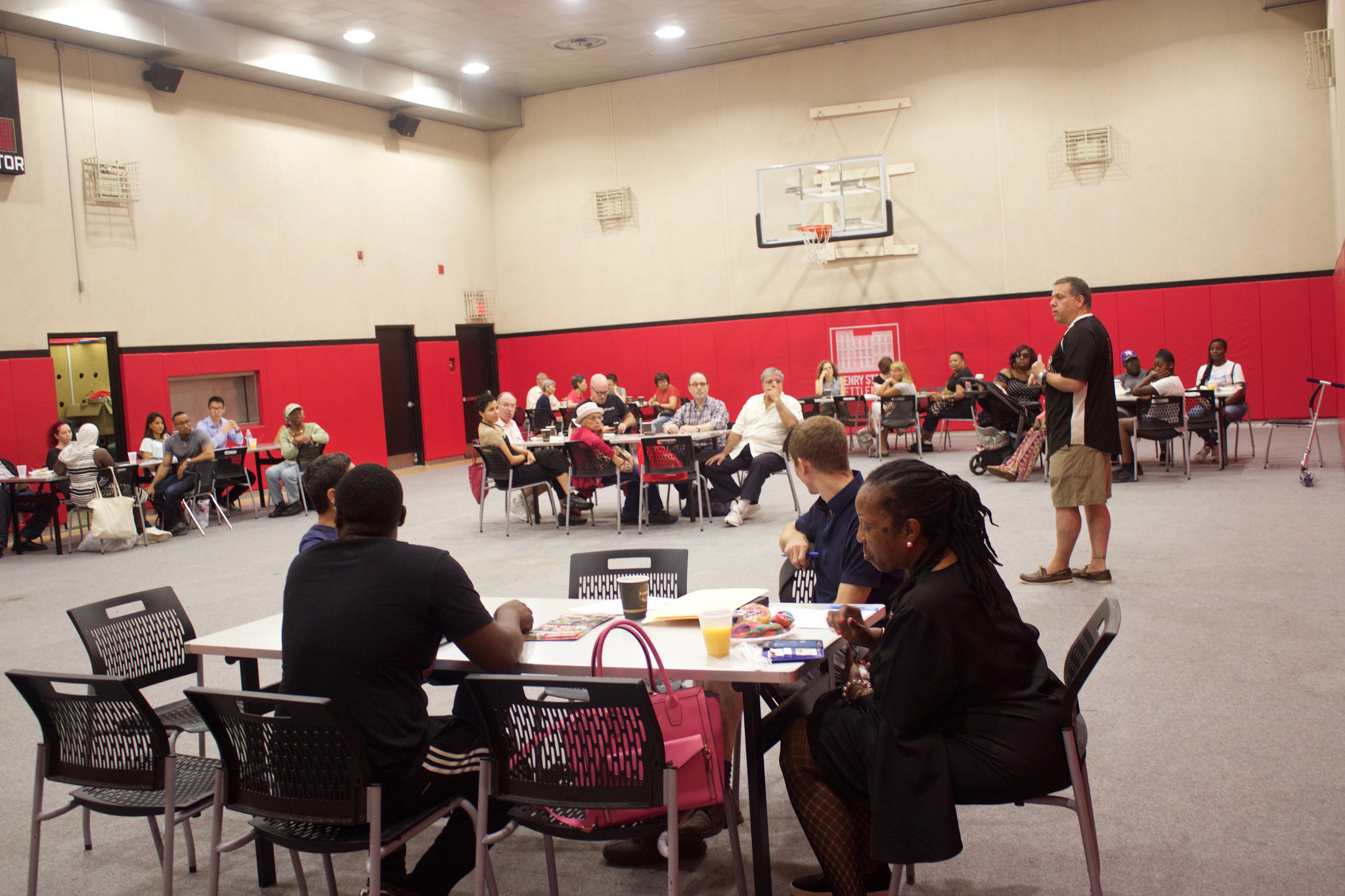 Above: David Garza addresses the Town Hall attendees. Photo by Henry Street Settlement/Nicole Fogarty.
When attendees broke into small groups to discuss an array of issues, three main topics emerged: housing and gentrification, policing, and the need for opportunities for various communities to get to know one another. Community members also expressed pride in their neighborhood ("We must get the LES declared a historic district!"), and many were happy with its transportation options and accessibility to other neighborhoods.
Participants shared their frustrations and significant fears about increasing housing costs on the Lower East Side—a neighborhood that the Association for Neighborhood & Housing Development ranked second highest in Manhattan for "threats to affordable housing." Henry Street plans to hold a town hall meeting focused solely on housing and gentrification; sign up here to receive our enews for updates.
When it came to policing, those gathered expressed that new community policing initiatives didn't seem accessible to them; many didn't know their community police officers and would like a town hall–style event where they could meet them and provide feedback. Participants would also like to see neighbors of all ethnicities and ages, including wealthier residents of new high-rise apartment developments, get to know one another.

Above: Photo by Cesarin Mateo.
Tacos, Games, and Praise for Lillian Wald
Then the party started! Festivities got under way at noon in Sol Lain Park, where the giant tent from Thursday night's Dinner on Henry Street had been replaced with a DJ, food trucks, games, art projects, and information tables from local groups and businesses. This once-in-a-lifetime community day, shared with VNSNY, attracted hundreds of celebrants for local eats from Yankee Doodle Dandy, El Toro Rojo, Phil's Steaks, and Uncle Louie G's Italian Ice.


Above: Photos by Cesarin Mateo.
As Henry Street Executive Director David Garza addressed the crowd with Marki Flannery, CEO of Visiting Nurse Service of New York, Garza said, "Both of our organizations started with a very simple but profound knock on a door. We were founded by the premise that if we see a problem, situation, circumstance, not only do we say something, we do something. Addressing a need, whether it's in health care, housing, education, employment, the arts, nutrition, safety, or child welfare, is at the core of what we do."

Above: David Garza and Flat Lillian dance with community and Henry Street team members. Photo by Cesarin Mateo.
He added that, for the last 45,600 days, Henry Street and VNSNY have been committed to keeping our doors open for those who need us.
Local elected officials joined the celebration in force, presenting proclamations and congratulating the two organizations on their service to New York City. They included U.S. Representatives Nydia Velázquez and Carolyn Maloney, New York State Assembly Member Yuh-Line Niou, New York State Senator Brian P. Kavanagh, and City Councilmembers Margaret Chin and Carlina Rivera.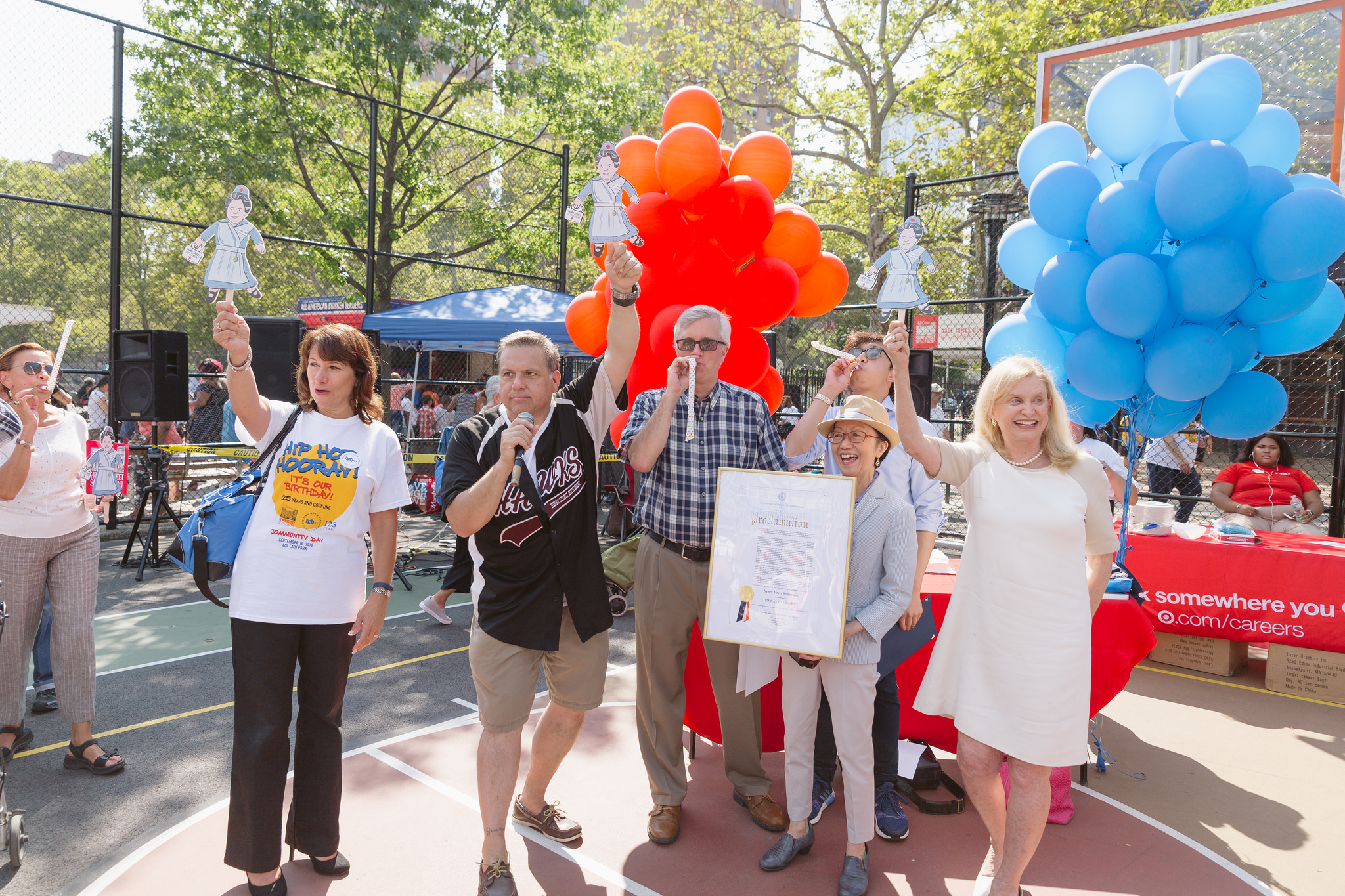 Above, left to right: Congresswoman Nydia Velázquez, Marki Flannery, David Garza, New York State Senator Brian P. Kavanagh, New York City Councilmember Margaret Chin, Congresswoman Carolyn Maloney celebrate Henry Street with a few Flat Lillians. Photo by Cesarin Mateo.
Said Velázquez, "Our country is great, but we recognize that the most important resources we have are the human resources. To honor Lillian Wald is to continue to serve and to continue to provide the public services that matter. We are great, because we take care of our seniors and our children and in our community."

Click above or here to view more photos.